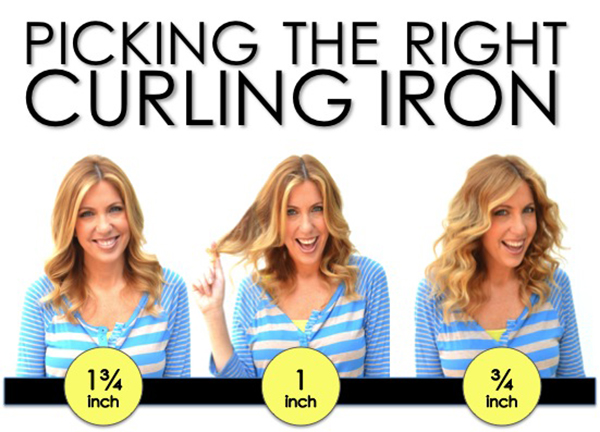 Curls continue to be a major obsession for us women and one of the most common questions that clients ask me is "How do I know which curling iron to buy?".  It's a little tricky because what you see is not necessarily what you get when it comes to buying a curling iron.  You also have to take into account things like your desired final look, your hair textures, and your hair's ability to curl.  Even if you think your hair wont curl, chances are you are just using the wrong size barrel!  We will get to the HOW when it comes to curls in a later post but first things first…we need to get you the proper curling iron for YOUR hair!
STEP ONE:  All curling irons are not created equal.  I absolutely stand by the Hot Tools curling irons and if you are curl obsessed like me you may need several in your arsenal.  They are very affordable and have a longer end that will give you more control and less finger burns!
STEP TWO:  Pick your barrel size.   The most common barrel sizes are 1 and a quarter inch, 1 inch, and 3/4 inch and I use ALL THREE for various looks (see above). My hair is fine with a slight frizzy curl pattern that curls easily.  I get a "true to barrel" curl with my hair meaning that if I use a 1 inch curling iron my curls end up about 1 inch in diameter.  All of the above curls were created in the exact same way just adjusting the barrel size (see…told you that you need all three!).
THINGS TO KEEP IN MIND…
If your hair is super straight I'd go DOWN one size smaller than your desired curl.  If your hair is super curly and you need to smooth then go UP a size!

Don't be afraid of the smaller barrels.  You have to anticipate that the curls will relax slightly after an hour or so and once you shake them out.

If your curls aren't holding then try taking smaller sections and make sure you are leaving the iron on long enough (until it's just warm to the touch)…careful not to leave it on too long or you will end up like this

poor girl

! (let's all take a moment of silence for her poor hair…bless)

I am begging you to use a heat protectant before ANY hot tool.  I am obsessed with Living Proof Revitalizing Spray.   It wont weigh it down and protects from heat and UV rays (available at

Mirror Mirror

).

Stop flat ironing your hair before you curl it…I mean really…this is so confusing to me but people do it all the time!

Practice makes perfect!  Don't give up and if you aren't liking what you see then reach out to the professionals for a little hair tutorial.  We offer curl classes at

Mirror Mirror

but I'm sure your hair stylist would be happy to spend a few minutes walking you through it!
Good Luck!