I have some SERIOUSLY talented friends and I have been racking my brain with a way to include them on my site!  I had the idea to do a "challenge" around Halloween when I attempted a particularly ambitious pumpkin project.  By the way if you are going to spend countless hours and way too much money on a project you should really do it on something non-perishable (sigh).  When I reached out to seven of my most creative friends I was so excited when they all agreed to create a wreath and share their inspiration.  No rules, just one wreath however they wanted to do it!  I knew they would come up with something fabulous but WOW…mind blown.  I decided that a real challenge needs a winner and so I've upped the ante with gift cards to Swifts Attic AND Uchi.  Oh and since there is no way I could pick a favorite I am counting on all of YOU to help me out.  Leave a comment below and tell me your favorite.  You can vote for more than one wreath if you can't narrow down to just one but please only vote once per wreath (don't make this awkward…it's the holidays).
I hope you love them all as much as I do.
May the BEST wreath win!
CRISTINA
Stylist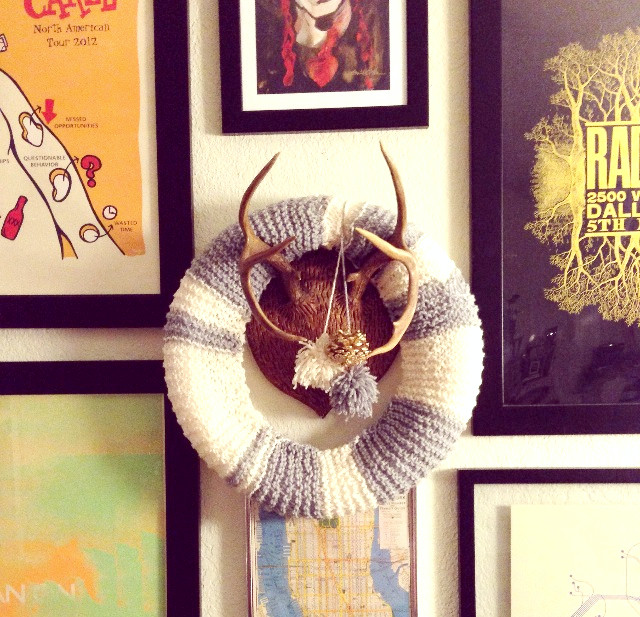 While living in New York City, I loved stumbling across Magda Sayeg's knitted projects. So much so, I took up knitting myself only to make a few crooked scarves for family, eventually retiring and hanging up the needles. Fast forward a few years and while chatting with a friend, Magda Sayeg is mentioned; you may have seen her knit work at Sway. Light bulb! My hand-knit wreath is inspired by chunky knit sweaters I'm currently loving and styling all of my clients in and of course, Magda Sayeg of Knitta, Please.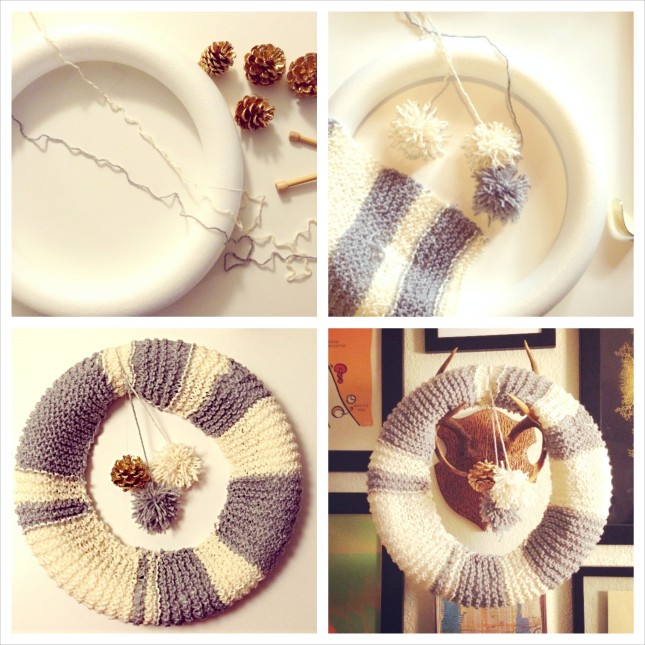 JESSI
  Fashion Blogger/Student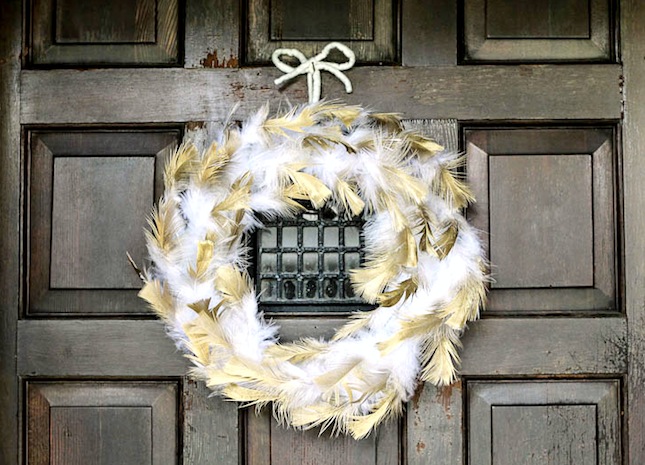 My inspiration came from a white & gold color palate.  They are my favorite Christmas colors and they also transition into spring and the new year!  I like the idea of a year round wreath that would make a statement in any room.  Start with white craft feathers, some gold spray paint and a styrofoam wreath.   Place your feathers in the desired pattern and finish off with a glue gun in between the feathers and the styrofoam so they stay in place. Wrap a ribbon around the top of the wreath and tie in a bow to hang! Voila!  You can check out the full DIY and even more tips on my blog, The Darling Detail.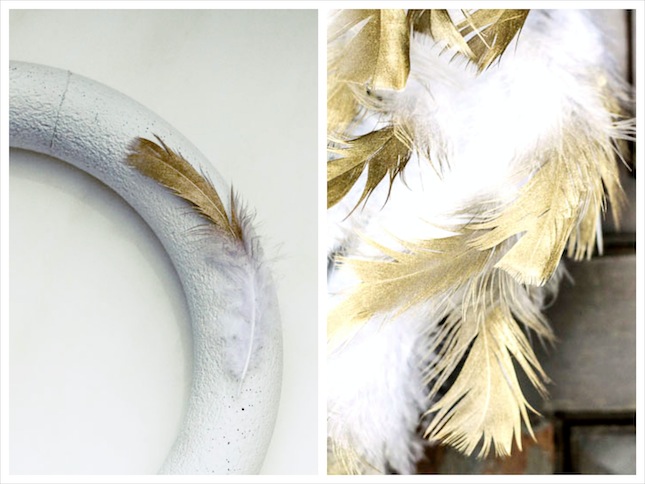 GILBERT
Manager at Mirror Mirror Salon/Artist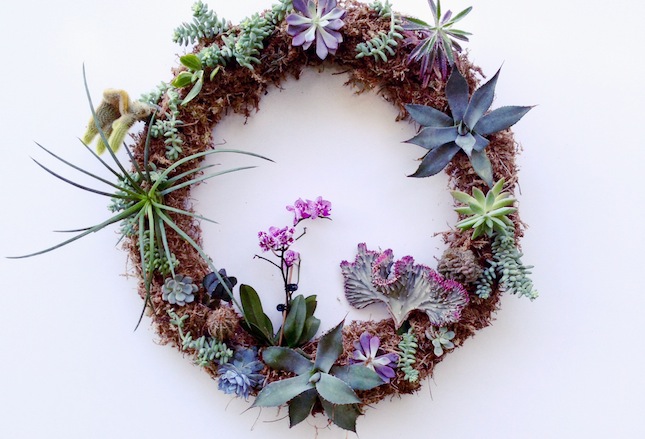 When asked to participate in the wreath challenge I was stoked and immediately had several concepts in mind.  Since I could only submit one, I landed on creating a living wreath because I have been so inspired by living walls and terrariums lately.  I had a visual in my mind and the fun was hunting down the perfect materials.  My beautiful array of succulents came from The Natural Gardner and East Austin Succulents and I'll be sharing exactly how to create this piece in another post.  I hope you like it as much as I do!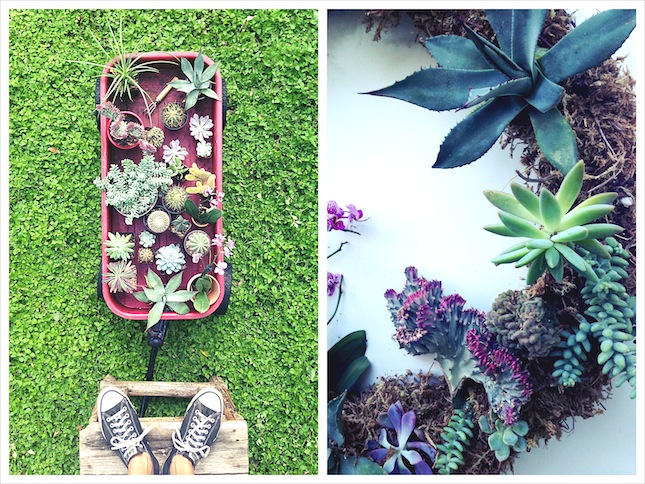 CLAIRE
Interior Designer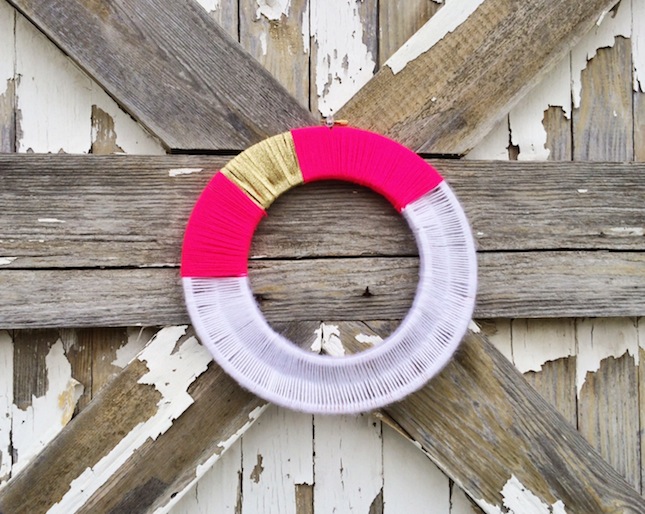 I love yarn and I love sewing hoops so when Martha Lynn reached out to me about the wreath challenge I couldn't help myself.  Lately I have been working on some Acapulco chairs for my house so I decided to try some of the same techniques on my wreath.  A little ribbon and yarn (and some serious patience) and my wreath was complete!  The weave I did on the white section was pretty time consuming so I switched to a wrap for the pink and gold.  I'll be sharing the detailed step by step on my blog so check back!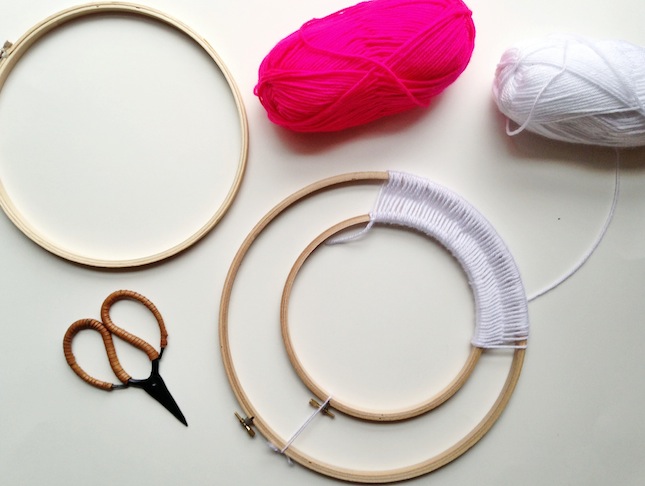 MEGHAN
Artist Management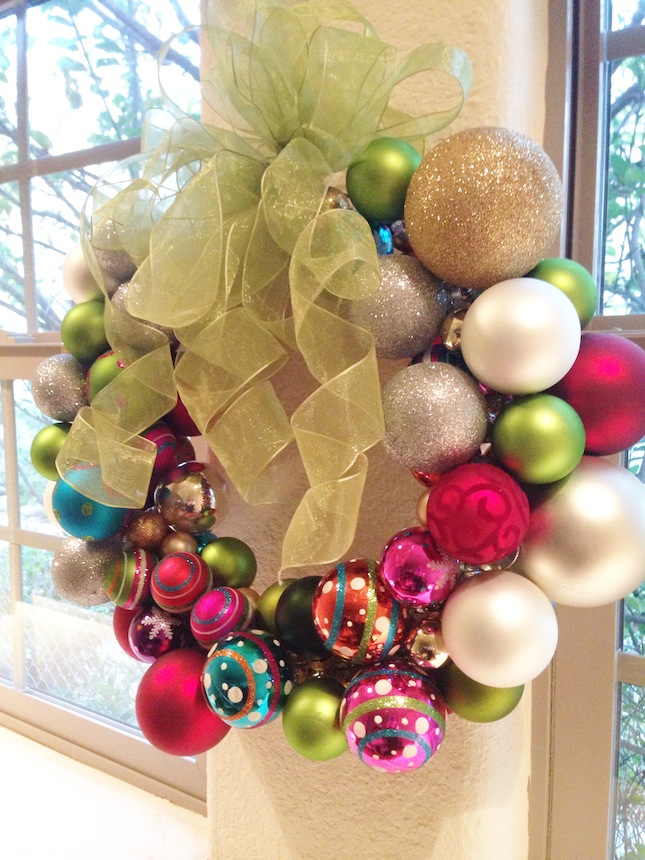 My inspiration for this challenge came from this kissing ball.  I just fell in love with it and it reminded me of Martha Lynn.  We have been friends since 6th grade (yes, I know all of her secrets) and she has always been drawn to bright colors so I couldn't resist.  I used a wire hanger as my base and followed this tutorial.  I used a larger variation on the ornament sizes than the tutorial and it gave it more character.  I hope you like it…it's now living in her dining room!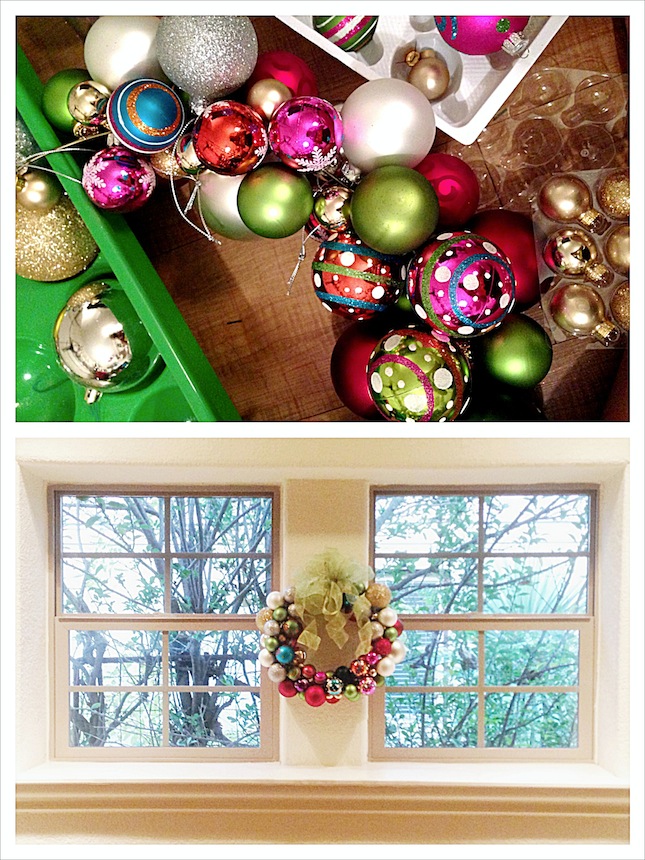 SIDNI
Owner, Drakes Corner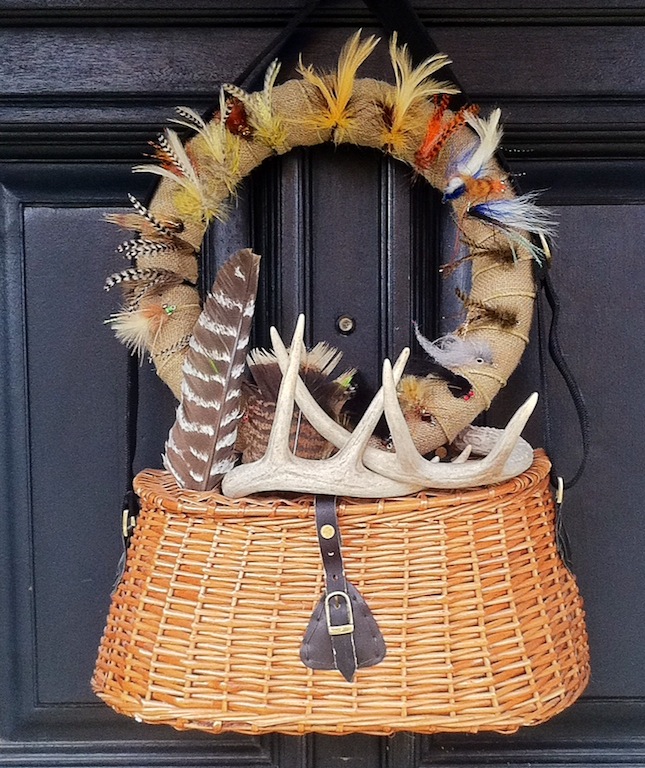 The first Easter I spent with my husband he made me an Easter basket filled with goodies out of this creel basket. It was so special that I like to use it in decor all year long!   When Martha Lynn asked me to participate in this challenge I knew exactly what I wanted to do.  An avid fly fisher, I had been dying to find a way to display some of these flies (all hand tied), and a wreath was the perfect opportunity to let them be center stage.  I attached the wreath to the creel and accessorized with antler sheds and turkey feathers from our ranch.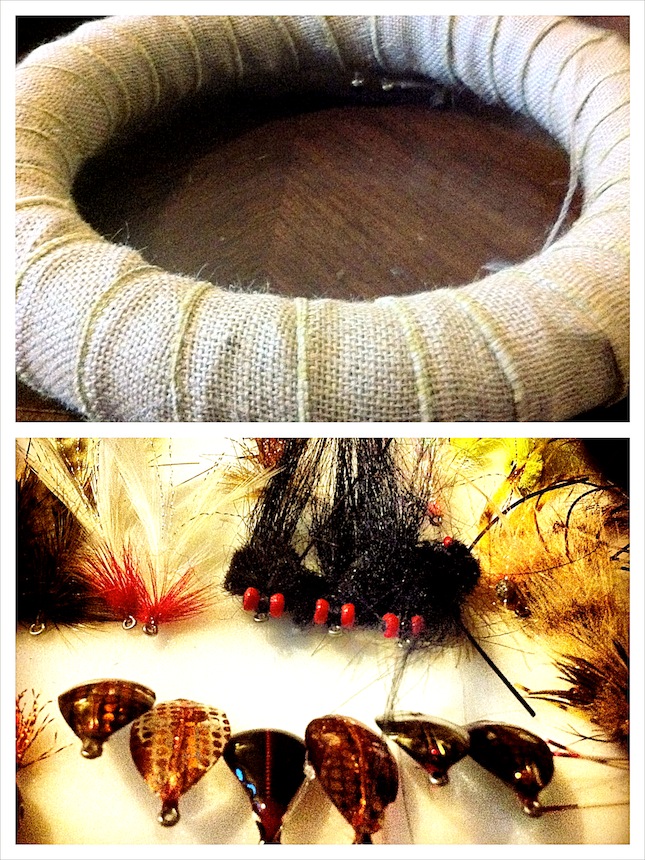 JEN
Interior Designer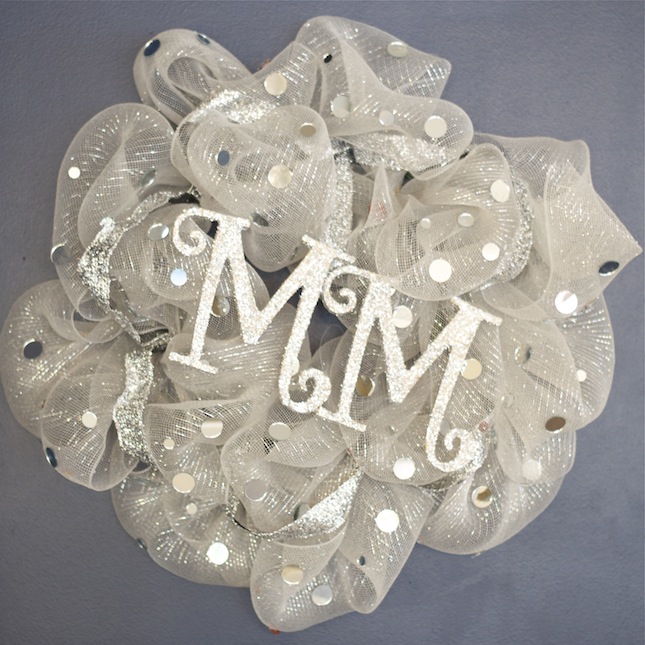 I have been a client (and friend) of Martha Lynn for years and we have done various projects together.  When she asked me to participate in the wreath challenge I  knew I wanted to make something festive for her salon.  Mirror Mirror is decorated in relaxing blues and greys with gorgeous ornate mirrors (of course!).  I started building the silver wreath, glued some small mirrors and then finished it off with a wooden glittery monogram, one of her favorites.  Now it lives by her station so she and her clients can enjoy it all season long!