It's here!  It's here!  AWARD SEASON (applause applause)!  For those of us that live and breathe beauty and fashion THIS is our Super Bowl.  As a little girl, I always loved curling up on the couch with my mom and watching the red carpet and now that I'm an adult we text through the entire show.  Last nights observations included that we need diamond stud earrings (or at least some really great fake ones)…immediately!  The Golden Globes are extra special because they highlight both TV and film and since they are first they tend to set the tone for the other award shows.  I wanted to share my favorite BEAUTY moments from last night and couldn't resist getting Cristina's take on the FASHION!
Oh yeah…and we'd love to hear who your favorites were in the comments below…
BEAUTY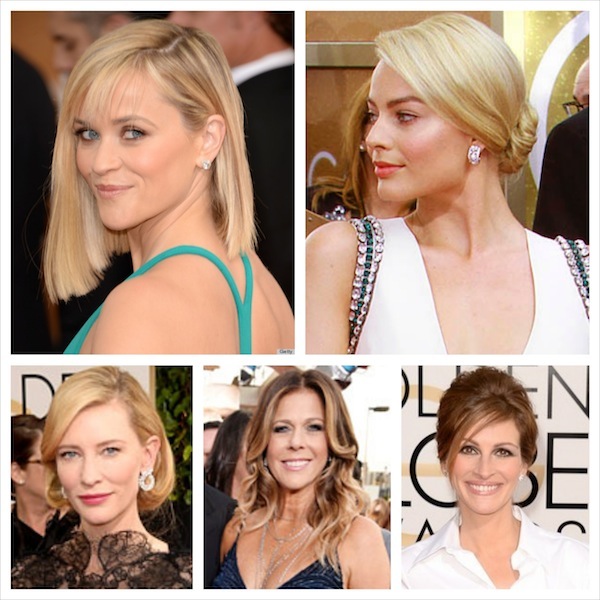 Reece Witherspoon's BOB!  Absolutely loved her new cut.  I think we will continue to see a ton of bobs and "lobs" this year and the choppier the better.
Margot Robbie's BLONDE!  The color was perfection and the soft low bun let the color play center stage.
Cate Blanchette's polished FAUX BOB!  This style was so Hollywood and just screamed movie star.
Rita Wilson's OMBRE!  Ladies over 50…please take note.  Your hair can be long AND current and still be appropriate.  The warmth of the color along with her sunkissed ends were to die for!
Julia Roberts FRENCH TWIST!  I can't decide how I feel about the whole look but I loved the french twist.  Such a nice break from the chignons and curls we see on everyone else.
FASHION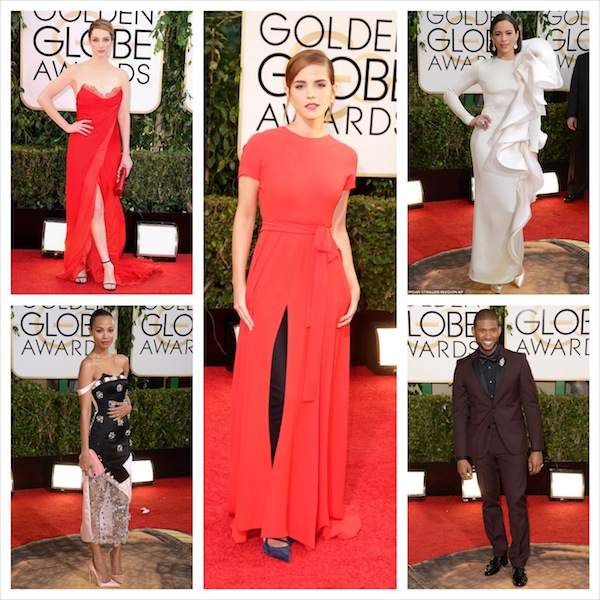 Zoe Saldana's BRAVERY!  Now THIS is how you do edgy at the Globes. This dress is the perfect combination of elegant and sexy. While the neckline and pops of pink are feminine the sheer fabric at the bottom along with the asymmetrical hemline make this one sexy look. And you HAVE to bring it when seeing your ex, Bradley Cooper.
Usher's OXBLOOD!  In a sea of black tuxedos, leave it to Usher to find a way to stand out. It's looking like Oxblood is making a comeback. No comment on his man-brooch (cough cough).
Paula Patton's STATEMENT!  It's take's a brave soul to wear a dress like this and I think PP pulled it off! I was feeling underwhelmed by the whole show until she walked out. The color looked incredible on her and I loved her choice in earrings.  I so wish she would have had her hair pulled back but she's risk taker and I appreciate she doesn't take fashion too serious. This is Hollywood, after all!
Emma Watson's PANTS!  Another risk-taker! I love how Emma took the plunge and made comfort both a priority and a statement in her Dior gown or Dior pants, whatever you want to call it.  This takes party in the back to a whole new level.
Kristen Connolly's COLOR! The neckline! The slit! I love everything about this dress that looks like it could be a wardrobe malfunction waiting to happen.