I have a confession.  I have let me hair go WAY too long between haircuts.  Not trims, but a good cut.  You see, if you do "just a trim" too many times in a row your hair WILL lose shape and that's exactly where I was.  I know what you're thinking…it looks exactly the same but the reality in the way it looks in a photo and how it looks and feels in real life are miles apart.  I am lucky, I'm a hairstylist so I can make hair do amazing things even when it's as pitiful as mine.  Most of the pictures you have seen of me are after a lot of curling, teasing and spraying (and the occasional extensions).  What I have noticed in the past month is that it was just lifeless and flat and I know better.  Scroll down for the before and after and a few tips on how you can know when you should be getting a cut!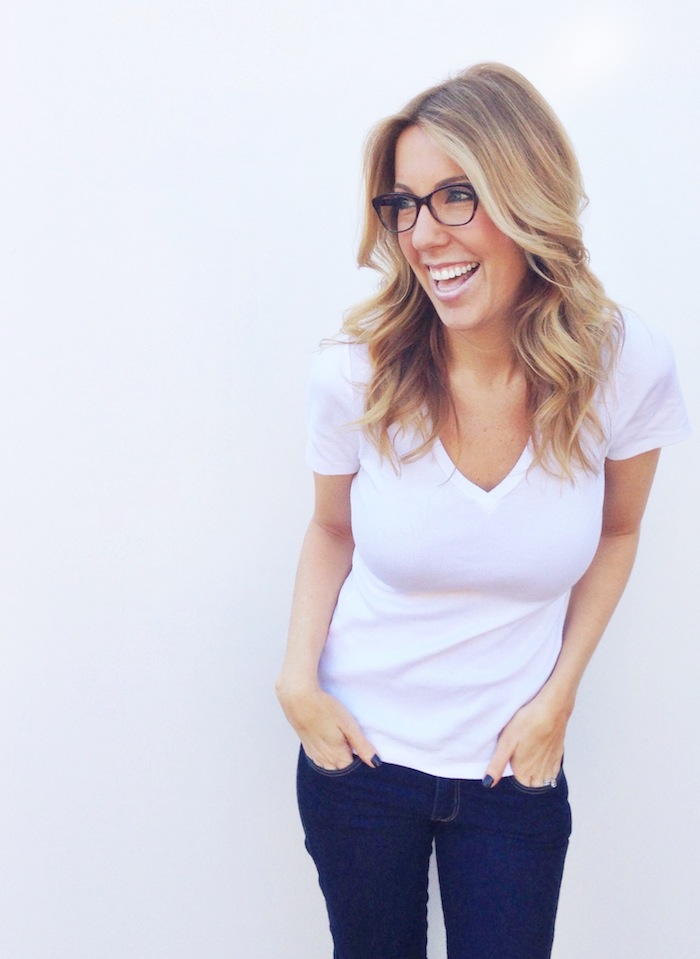 Okay right now stop what you are doing and get a hand held mirror. Brush all of your hair straight and look at the back.  This is what we never do and it's where you can REALLY see the shape of the hair.  We did this yesterday and mine was so sad…I am a hairstylist NOT okay.  I actually hesitated sharing these photos because they were so awful but I want to share so you won't be afraid.  Like many of you, I have been growing my hair out and dealing with losing a ton of it after baby.  Too many "just a trims".  What I want to share with you is that you don't have to be scared of a haircut.  I threw myself at Johna's mercy and let her do what she needed to do!  She really is incredible and cuts ALL of our hair at the salon.  We only took an INCH off the bottom (see, you can do this) and focused most of the cut around the face.  We brought the face framing layers to my lip (they were hanging way past my chin) and brought all of the layers forward which will make them flow back.  We kept the layers in the back minimal so that I wouldn't lose density at the bottom.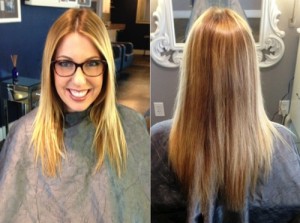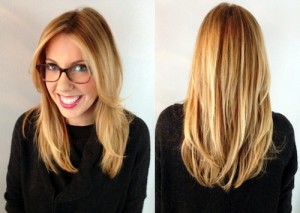 What happened was a TON of volume on top and the bottom looks so healthy.  If you ask me, it even looks LONGER than before the cut and the color is better.  Pure magic.   These afters were taken after she blew it out using only Flex – no curling iron just simple.  
Think it may be time for a cut?  Here are a few red flags that it may be time…
IF THE BACK LOOKS LIKE MINE DID (!!!)
IF YOU WEAR IT IN A PONYTAIL MORE DAYS THAN YOU DON'T
IF YOU HAVE TO CURL IT TO MAKE IT LOOK GOOD
IF YOUR CURL WON'T HOLD
IF YOU HAVEN'T CUT MORE THAN AN INCH AT A TIME IN THE PAST YEAR
IF YOU DON'T LOVE IT!!
If you are ready for a haircut and live in Austin, we would LOVE to see you at Mirror Mirror.  If you have a stylist you love then go see them and tell them you trust them and are ready for a good fresh cut.  If you don't have a stylist that you love and trust it's time to find one!  Good luck and we'd love to see your before and afters.  You never know you might just see them on the site.