By Grace L. McClure
Working out isn't always easy and time seems to be the biggest hurdle for most people.  What if I told you that you could sneak in a workout in just 5 minutes?  You can!  On those days you can't make it into the gym, you can still get your daily dose of endorphins. Keeping your workout effective AND simple is much easier than you think and these techniques can be done in 5 minutes. The best part is that you can make it as hard (or easy) as you like. It's a perfect fit for any level of fitness and will absolutely make you sore! As a college athlete (SEC dancer),  I have access to all of the best training and THIS is the workout I do the most!  I love it because it can be done anywhere and requires no weights and very little space.  Repeat it three times and add in a couple of water breaks and you've got yourself a solid 20 minute workout!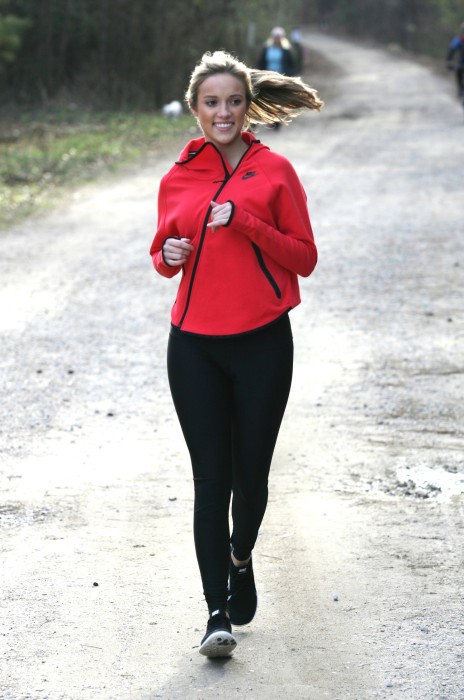 STEP ONE – GET MOVING!
Do what you've gotta do to get your muscles warm!  I suggest jog at your own pace, or do a few jumping jacks and high knees to get your heart rate up.  Even just two minutes or 20 jumping jacks/high knees should do the trick!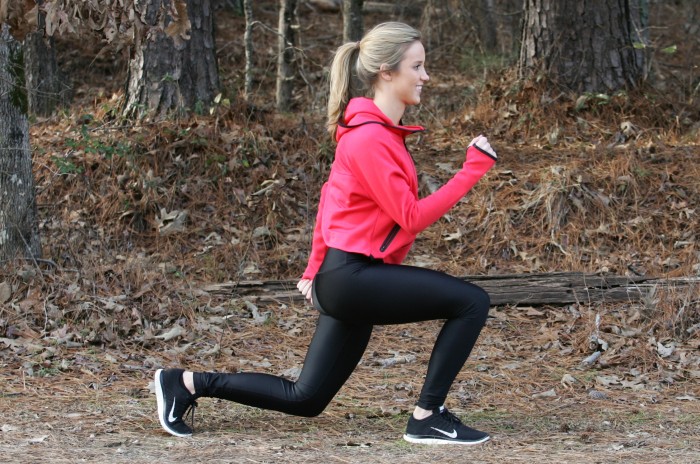 STEP TWO – REVERSE LUNGE
Swing one leg back and keep your supporting leg strong.  Bend both legs to about a 90 degree angle. Careful not to let your knee go past your toes.  You should be able to feel this in your quads!  (10 on each leg)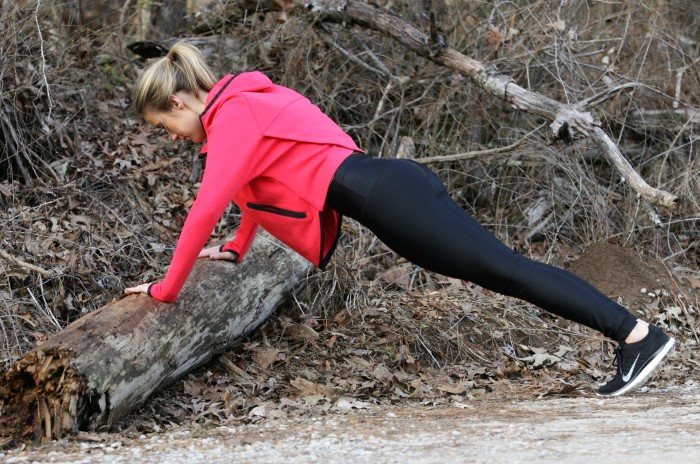 STEP THREE – PLANK PUSH UP
Focus on doing slow and controlled pushups. Make sure your chest is actuality hitting the floor (you're cheating if it doesn't).  Between each one, hold in the plank position for a few seconds! Go nice and slow on these.  (only 5, remember quality over quantity)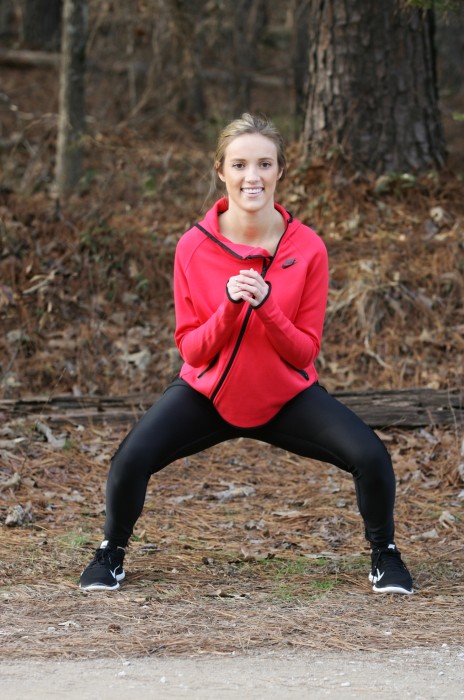 STEP FOUR – BOUNCING SQUATS
Warning, you WILL feel a burn here but you will thank me later!  Point your toes and knees forward and go down to a comfortable squatting position. Move about 5 inches up and back down into that "comfortable" position – this is going to be more of a bouncing motion. Remember, you don't want to stand up all the way straight.  Think: up a little, down a little!  (20 total, almost done!)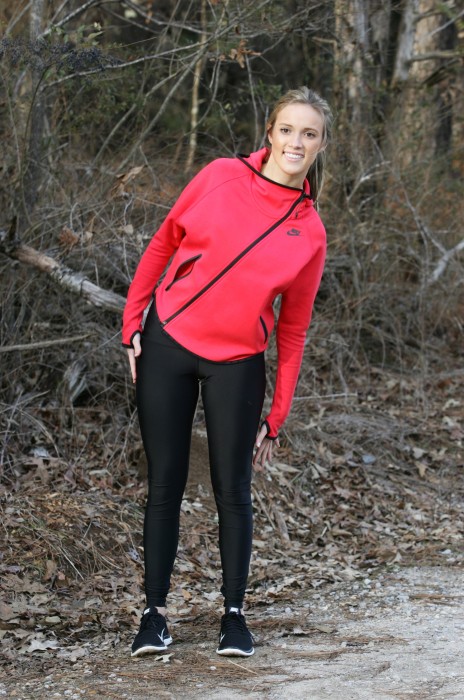 STEP FIVE – OBLIQUE BENDS
Stand up straight and lean all the way to one side, touching your finger tips to the outside of you knee. You want to use your obliques to get back to a straight standing position. You are not going to feel this right away. If you need to feel the work you are doing (I'm that girl too) grab your water bottle (or anything with weight) and put it in the hand that should be touching the knee. (20 on each side)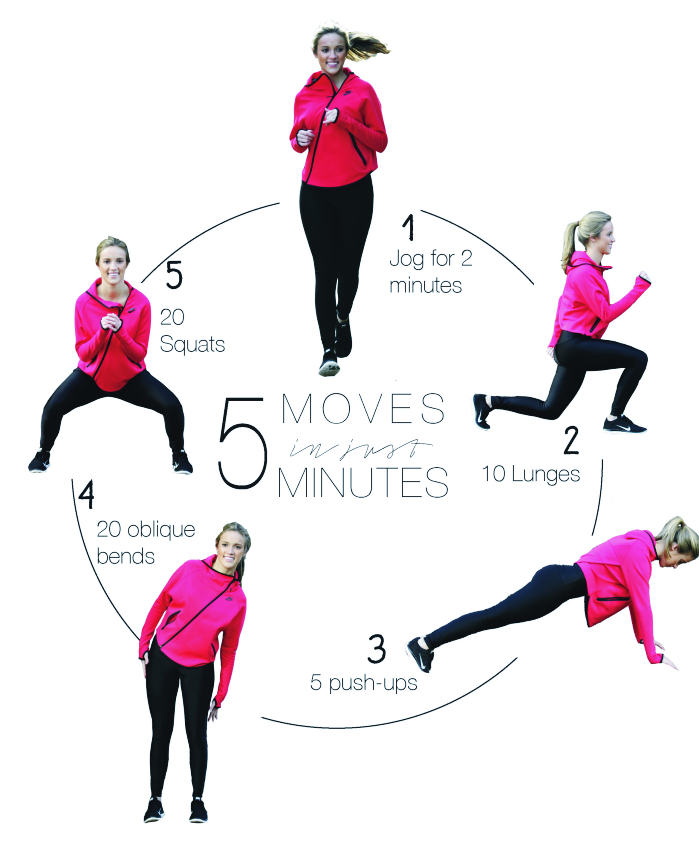 STEP SIX – REPEAT
Take a second to get some water and then do it all over again, starting with the lunge.  One set (doing exercises 1-5) should take you about 5 minutes. Your legs will feel like jello by then end of it (yay!) and it's so simple! I would suggest doing three sets but even if you only have time to do it once, you've still got a great workout in!  You might even consider doing three but throughout the day.  When you include a break in-between, you have a solid 20 minute workout under you belt!  We've created this grid so you can pin it or save to your phone so you can have easy access in a pinch until you get the hang of it.
This "cycle" workout is super effective and is easy to personalize by adding or taking away any exercises you want!  The key is to just get moving and feel a little burn.  This particular cycle is for the most part all I do and it's my favorite full body toning workout. Give it a try and then I'd love to hear from your below on how you tweaked the Anywhere Workout to fit you!
Special thanks to Chad Mills for shooting these images!
SHOP GRACE'S LOOK