I'm so excited to be sharing with you all PART 2 in my CURL SERIES today!  Make sure you check out PART 1 if you haven't had a chance…
There is no denying that hot rollers are hands down the biggest bang for your buck in the styling department.  My mom had me in hot rollers from the moment my hair would wrap around a roller (thank you Mom!).  I think rollers get a bad wrap because they were so big in the 80's but a good set of hot rollers is 100% still relevant today especially if you are short on time.
Yes that's me age 3ish…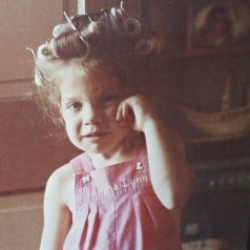 The key is having a set that has both metal clips for the top and butterfly clips for the back.  The metal clips keep it from leaving a dent on your hair on top and the butterfly clips give you more grip on the hard to reach areas in back.  I like this set and this is the set I used for the video.  Once you practice a few times you will love how quick you can get your rollers in and then go do something else (I usually put my makeup on and that's it they are ready).  They also make a little 5 roller travel set that is great for a little added volume at the crown for when you are really pressed for time.
Here ya go!  My video tutorial for How to Use Hot Rollers…

SPECIAL THANKS TO…
Eve Tarlo for producing and editing this video, Mandy Morrison for doing makeup and Taylor Ellison for being my lovely model!
SHOP THE POST