There is no denying that I'm into Halloween.  I love a good theme and coming up with costumes for groups and kids are my favorite.  Bonus points if kids are small enough to not get the joke!
Case and point, I launched the blog three years ago with a nod to The Rachel Zoe Project, the entire salon crew did our version of  Troop Beverly Hills one year, and of course Ford as Risky Business and Pharrell was a blast.  Last year, Luke was so new that I couldn't bring myself to be creative so he was the same thing Ford was for his first Halloween and Ford was Luke Skywalker (bless them both).  Hey, you can't win em all right?
So about this year…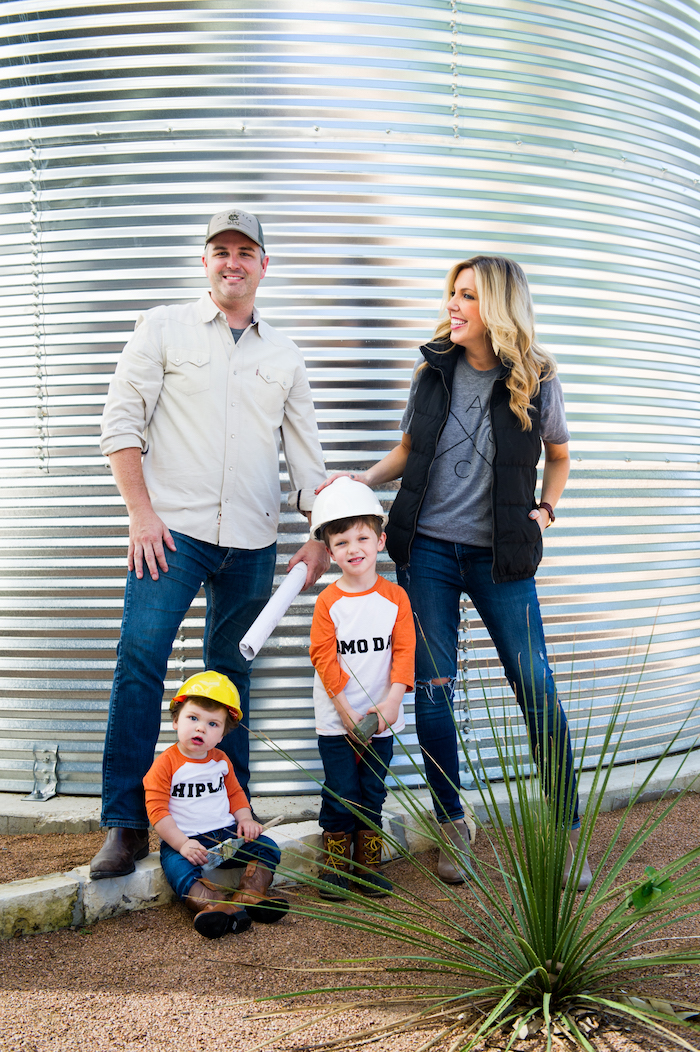 The Kale Patch just kicked off some MASSIVE house projects so I couldn't resist paying tribute to our favorite Fixer Uppers Chip and Joanna Gaines!  You guys, this show is appointment viewing in our family and when we bought our house a year ago it was basically because Chip and Jojo have shown me the light on what can be done.  "Can't we just take that wall down?"…My architects and designers are rolling their eyes right now I'm sure!  If only we could pull it all off on the Fixer Upper budget (sigh).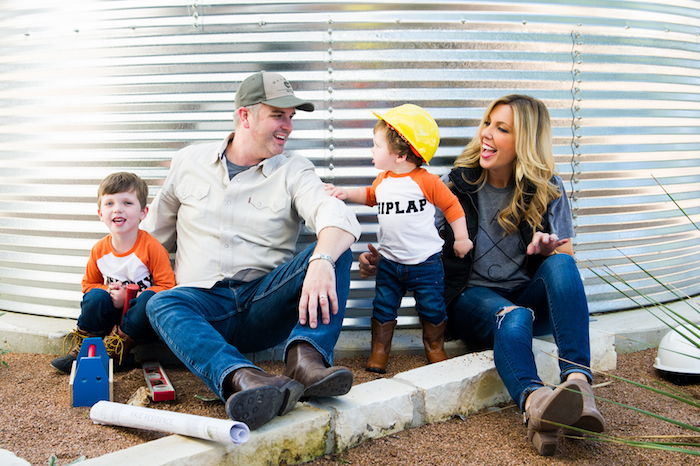 To pull off Chip and Joanna I really think you need to be together…the looks alone aren't as obvious!  Because I am a true fan I have visited Magnolia Market a couple of times and I already owned actual Joanna favs so my "costume" was easy.  I say costume in quotes because this is basically how I dress in the fall anyway.  The classic WACO shirt, skinny jeans, booties, her favorite earrings and bracelet purchased from the store and I was done!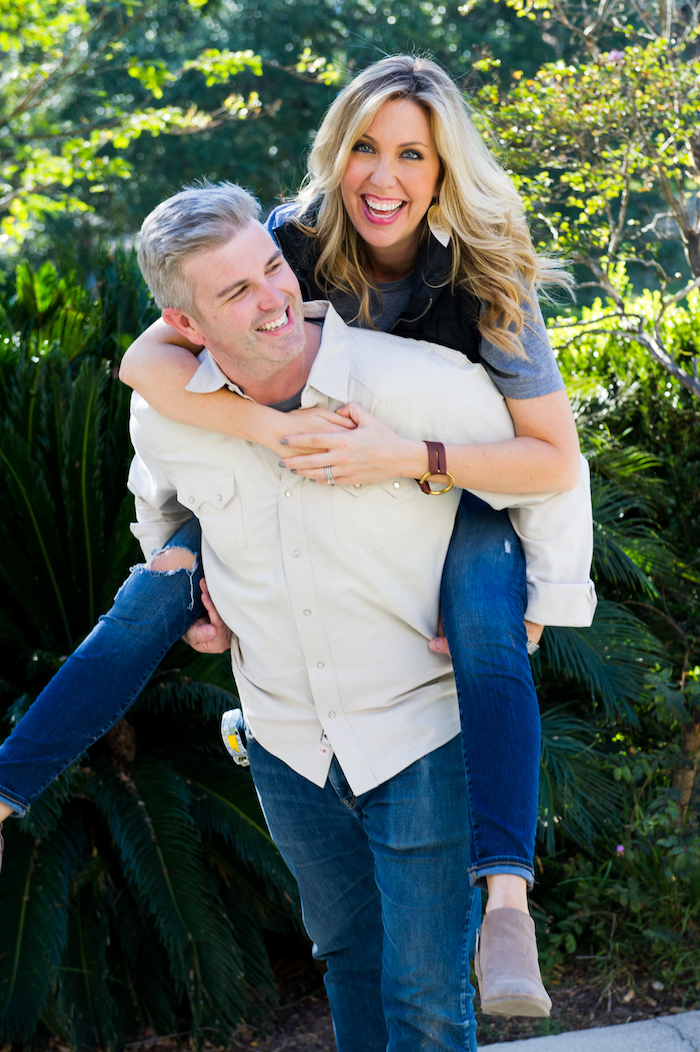 I absolutely LOVE this bracelet by the way.  It's by Henri Lou and you can get it online direct from them or on the Magnolia Market site.  Trev already owned this pearl snap which looked very Chip-ish and we threw on a Magnolia Farms hat and some boots to polish off his look.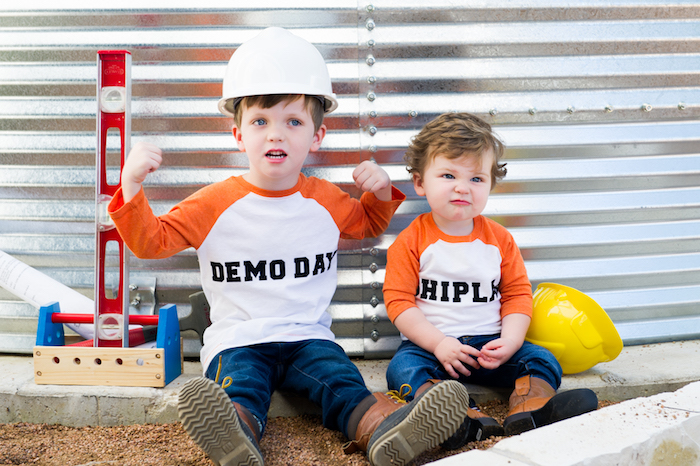 And now for my favorite!!  Everyone knows, no Fixer Upper is complete without "Demo Day" and a "little Shiplap" so that's where these guys come in!  I found their shirts for practically NOTHING at Old Navy and I ironed on the lettering.  I had never done this before but it was super easy and took maybe 10 minutes to do both shirts.  Voila.  We borrowed hard hats and they already had the boots!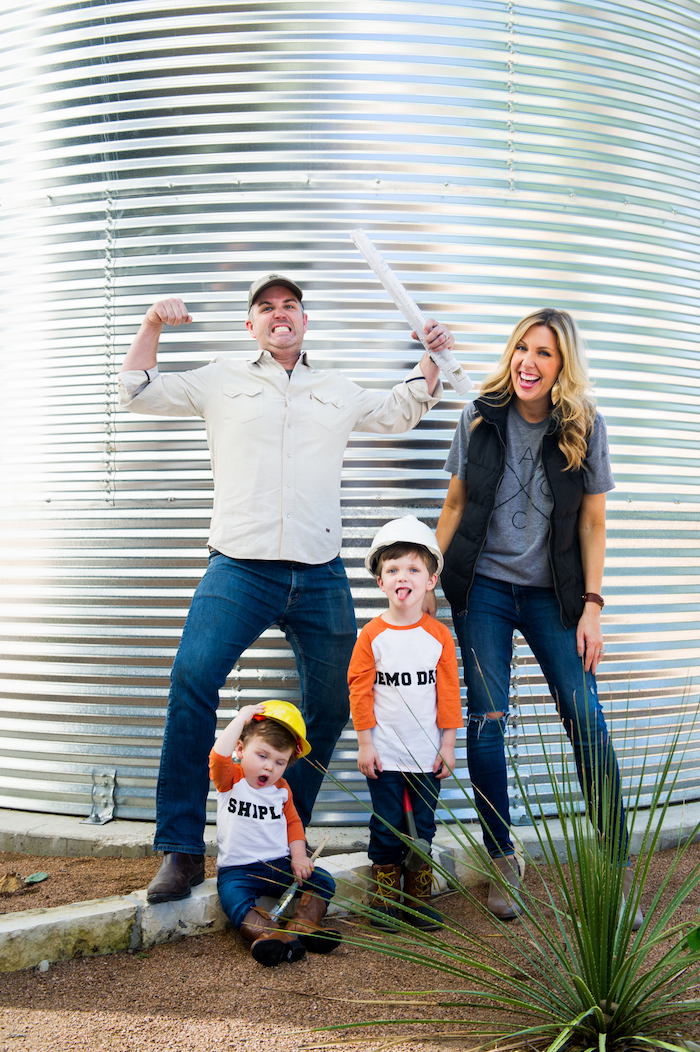 No acting necessary.  This is actually just typical.  And our version of the Silo is located just around the corner from our house at an office building!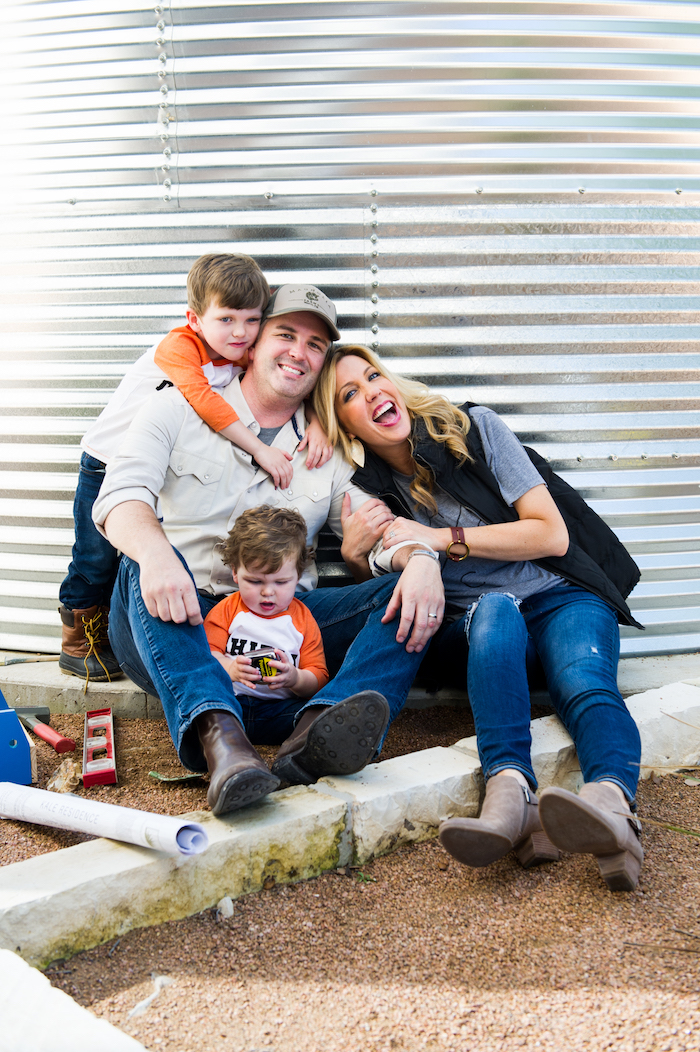 And since this is our Fixer Upper edition of Halloween, I thought I'd share a little progress shot of our actual backyard!  We are only a couple of weeks in and I'm settling into the fact that it will get worse before it gets better but can't wait to share more with you all as it unfolds.
We start the inside of the house next year so if anyone can help me make a case to ole Chip and Joanna to break their rules and come to Austin that would be just awesome!  At the very least, maybe she'd let me get my hands on all that beautiful hair of hers…talk about #hairgoals.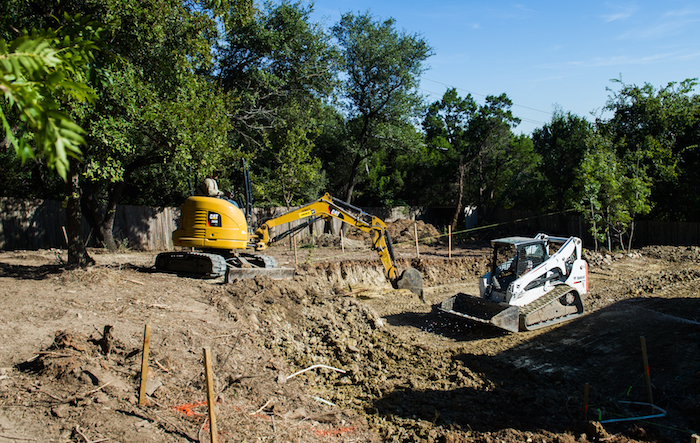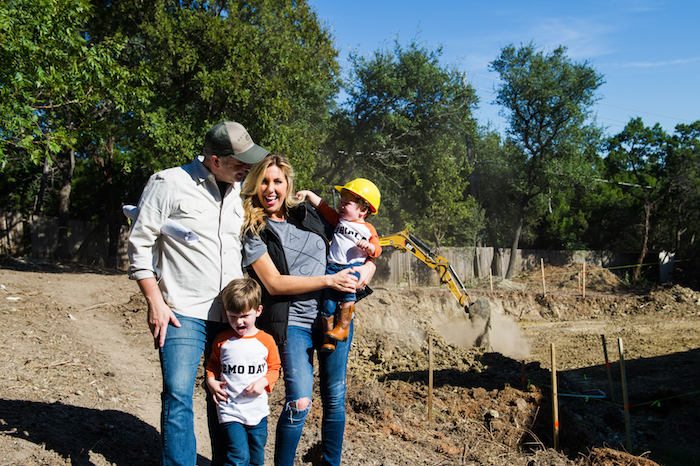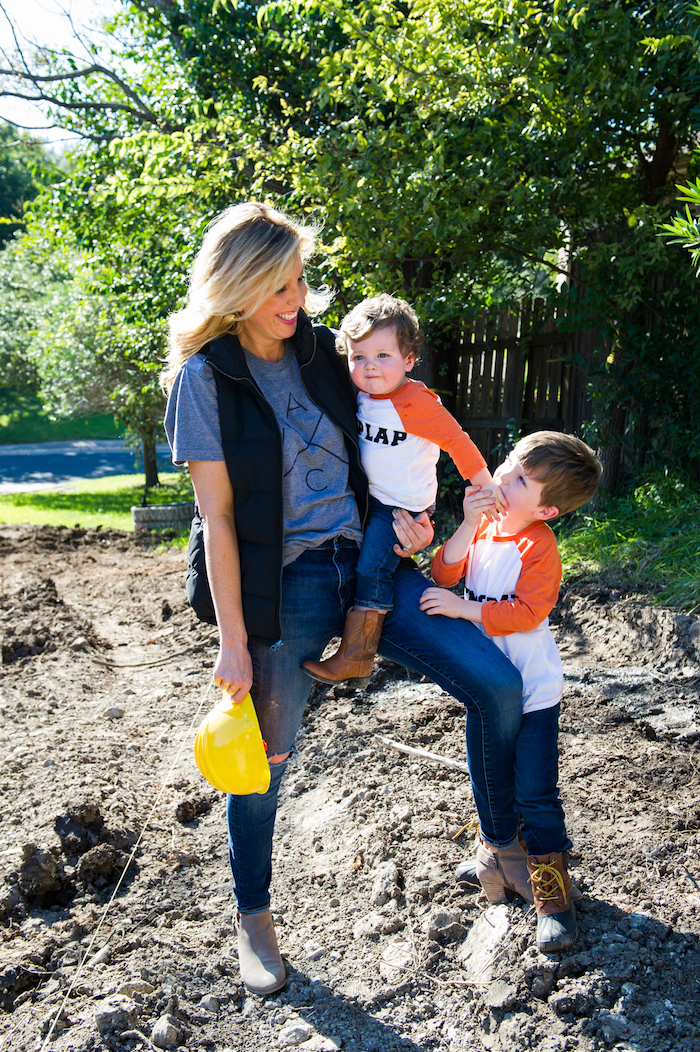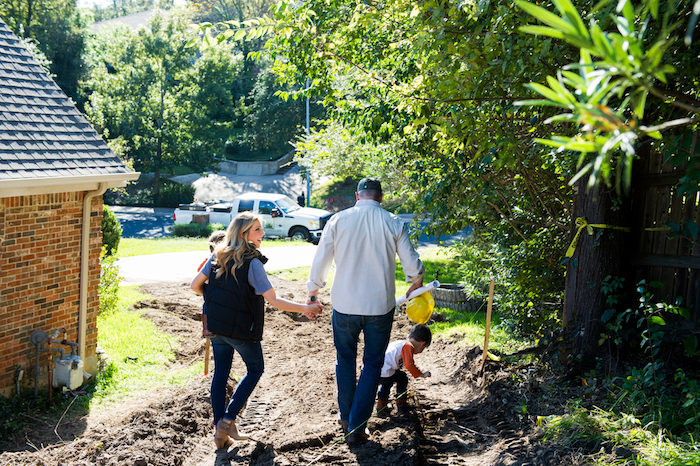 What do you think?  Any other Fixer Upper fans out there?  I hope you all have a fun and safe Halloween!!  Comment below with your costume ideas…
Special thanks to Cory Ryan for shooting these pics.
PS – Did you guys see this week's cover of People?  How'd we do?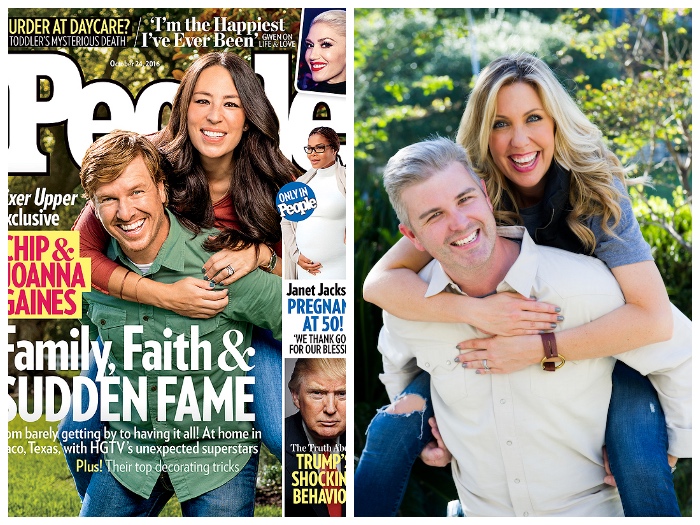 Steal Martha Lynn/Joanna's Look:  Earrings, Bracelet, Waco Shirt, Booties, Skinny Jeans, Puffy Vest
Steal Trevor/Chip's Look:  Magnolia Farms Hat, Pearl Snap Shirt
Steal the Boy's Look:  Tee, Hard Hat, Cowboy Boots, Duck Boots, Iron On Letters