I have been waiting for MONTHS for this line to come out and it's finally here.  I was able to wash my hair with it and test it out for the first time last night so I wanted to share my thoughts.  I'm trying this product as both a hair stylist AND consumer interested in safer options both in the salon and at home.
Here are my initial impressions…
It's CUTE right?
It's SO beautifully packaged.  As a branding junkie, I just love that it comes in individual packaging and so appreciate that it's aesthetically pleasing.  Maybe that's just me but this jumped out at me!
The smell is incredible!
When the box arrived, the first thing I did was open every single bottle and see how it smells.  I know clients are very into this and I was blown away with how light and clean it smells.  PLUS!  Theses products are made with NO SYNTHETIC FRAGRANCES which is amazing because we know this is where companies like to sneak in toxic ingredients.  Every single ingredient is plainly listed on the box and you can feel good knowing that 1500 questionable or harmful ingredients were left out thanks to the Never List®.
But does it work?
I'm not gonna lie…I was a little nervous to see if this safer product could actually perform.   Aaaannnd…it did!!  I decided to start with the Smooth & Control shampoo and conditioner because #frizz and I was impressed.  It did not lather as much as I'm used to but I was surprised at the Pure Foam technology providing lather without sulfates.  What does that mean?  Watch this!
Combed out easily and did I mention the smell!?
What about styling?
I used all three styling products because why not?  The Volumizing mist is VERY light so you don't have to worry about it getting sticky or over using like a lot of volume products.  The Split End Serum is great and I used it on my ends, feels light and goes on easy.  The Hair Oil I predict is gonna be a fan favorite!!  You don't need much, I went a little overboard here but a little on the ends before you blow out and then a little on any spots that need smoothing after it's dry is perfect!
I would honestly recommend all three styling products for MOST clients with the exception being if you have super fine hair you may proceed with caution on the oil.
Overall…
I am VERY impressed as both a hair stylist AND consumer.  I loved the way my hair felt, the products were easy to use and when I woke up this morning there was NO frizz and required very little touch up to style (just did a few curls and voila).
I am still gonna be needing some heat protection, a hair spray and probably a dry shampoo but I have a hunch that using these products might result in less need for all of those.  Stay tuned!
Are you ready to make the switch to safer HAIR CARE?  Shop it here and make sure you list me as your consultant so you can be entered to win the Nordstrom gift card I'm giving away because #Nsale!!
SHOP VOLUME & SHAPE ($78 value)
SHOP SMOOTH & CONTROL ($82 value)
SHOP REPAIR & NOURISH ($82 value)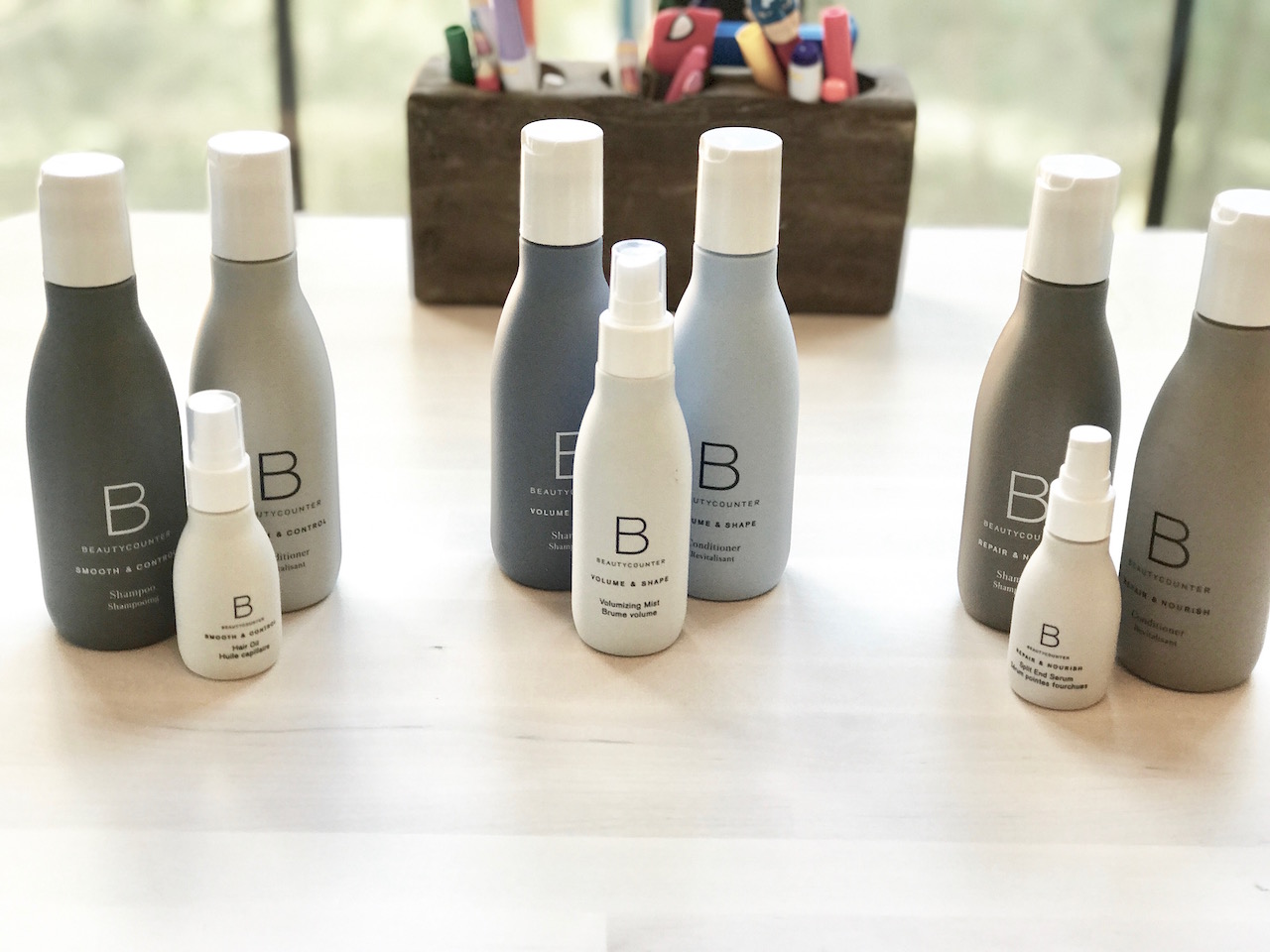 I am a consultant with Beautycounter (and you can be too) but as with EVERY post on this site, all opinions are my own!