Welp!  The Kales have done it again.  Here we are in a home remodel, salon expansion and Trevor's new role has him traveling internationally (bless all the things).  I'm having flash backs to when we got married, opened the salon and then were pregnant with Ford 6 months later.  We tend to do these things all at once and just go for it!
All that to say I am committed to staying on top of things this holiday season (hence the holiday kick off party we had last week) and do a little planning.  This is honestly the ONLY way I will be able to pull it off this year and I'm gonna bring you along with me as we (that's YOU and me) all set out for our most proactive holiday yet!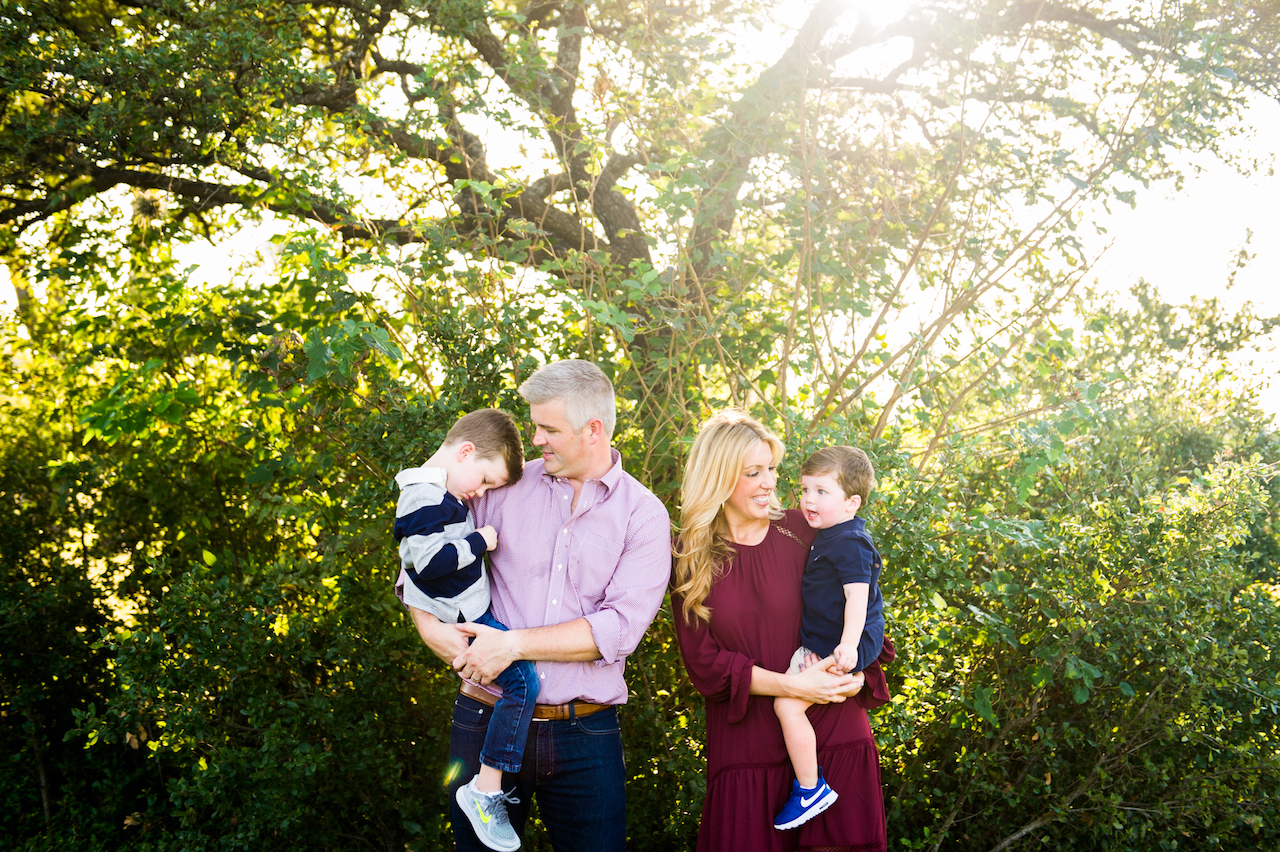 One of my favorite traditions is both giving AND receiving holiday cards.  I have been guilty of waiting until the last minute in past years and it adds so much stress and dollars to the process.  As I'm typing this Tiny Prints is having 20% off everything and Minted is having 10% off everything as well.
This year I enlisted Cory Ryan to do a little family session for us at the last minute.  I was looking at the calendar and while it still feels early, with Trevor's travel schedule and turn around time on cards you actually do need to get the shoot scheduled ASAP if you are wanting new pics for this year's card.
Although this is not necessary, I have been known to send an Instagram photo for our Christmas card in the past so there's that option too.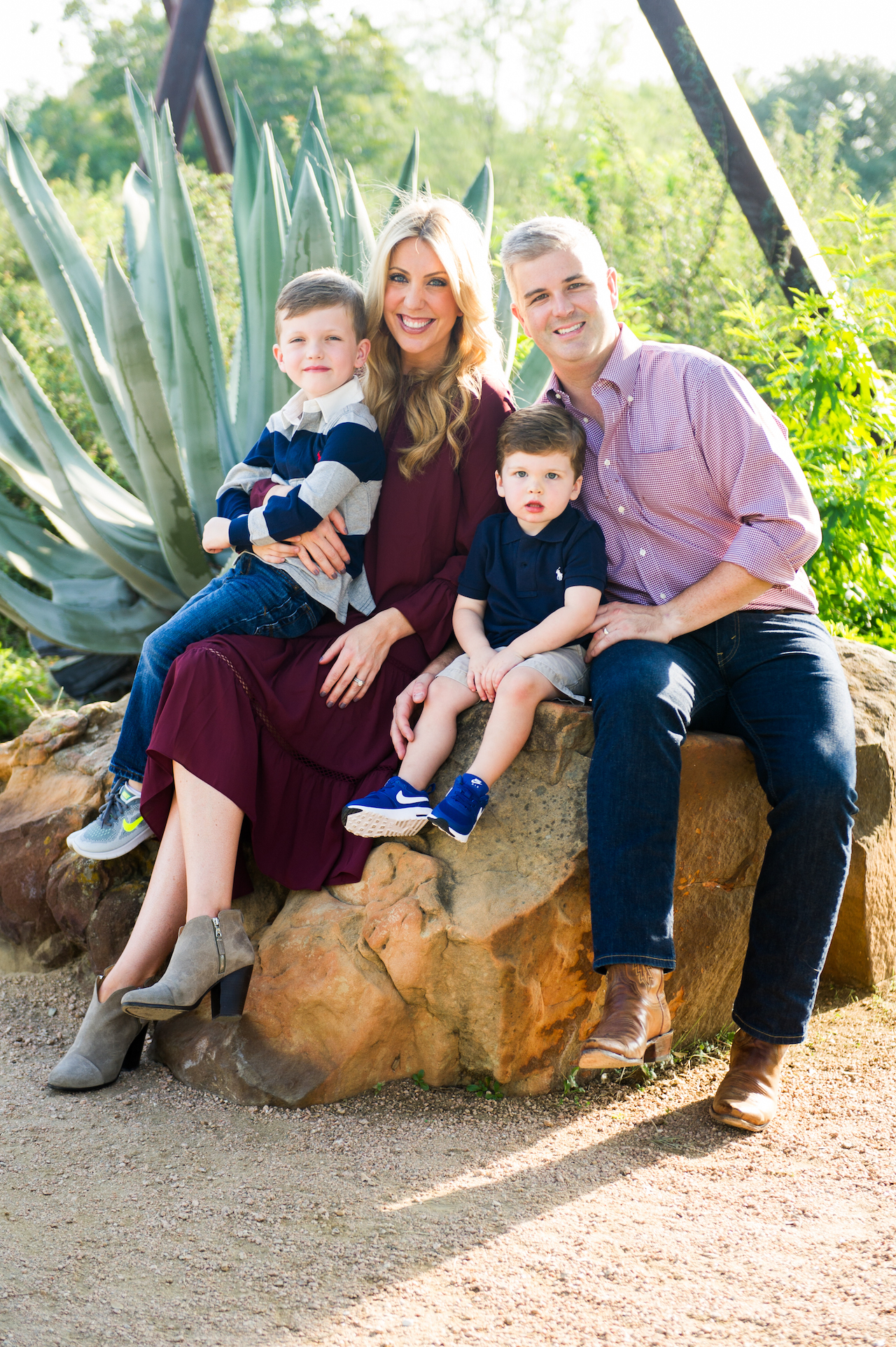 Since we didn't get to do our annual anniversary shoot this year with Cory, we planned this shoot and I wanted a more classic family photo versus our anniversary concepts in the past (check them out here, here, and here).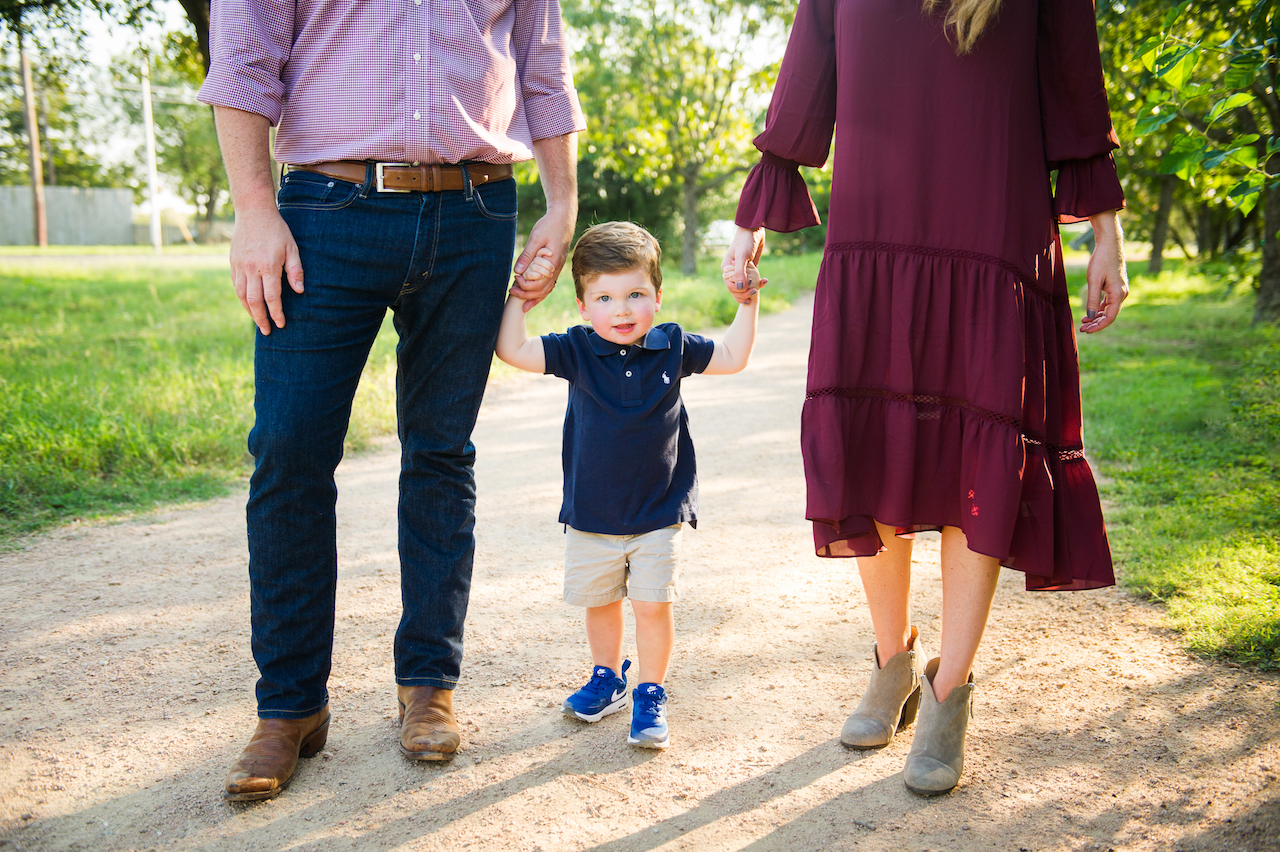 Once we picked a date I had to throw together a family outfit.  Y'all any mom that says this isn't stressful is lying to your face.
I prefer complimentary looks rather than too "matchy matchy" and I came across the boys shirts first and backed into the rest of our looks from there.  Once I saw this dress I was obsessed.  Perfectly flowy and felt enough holiday without being in your face Christmas!  Trev already had his shirt so that was easy.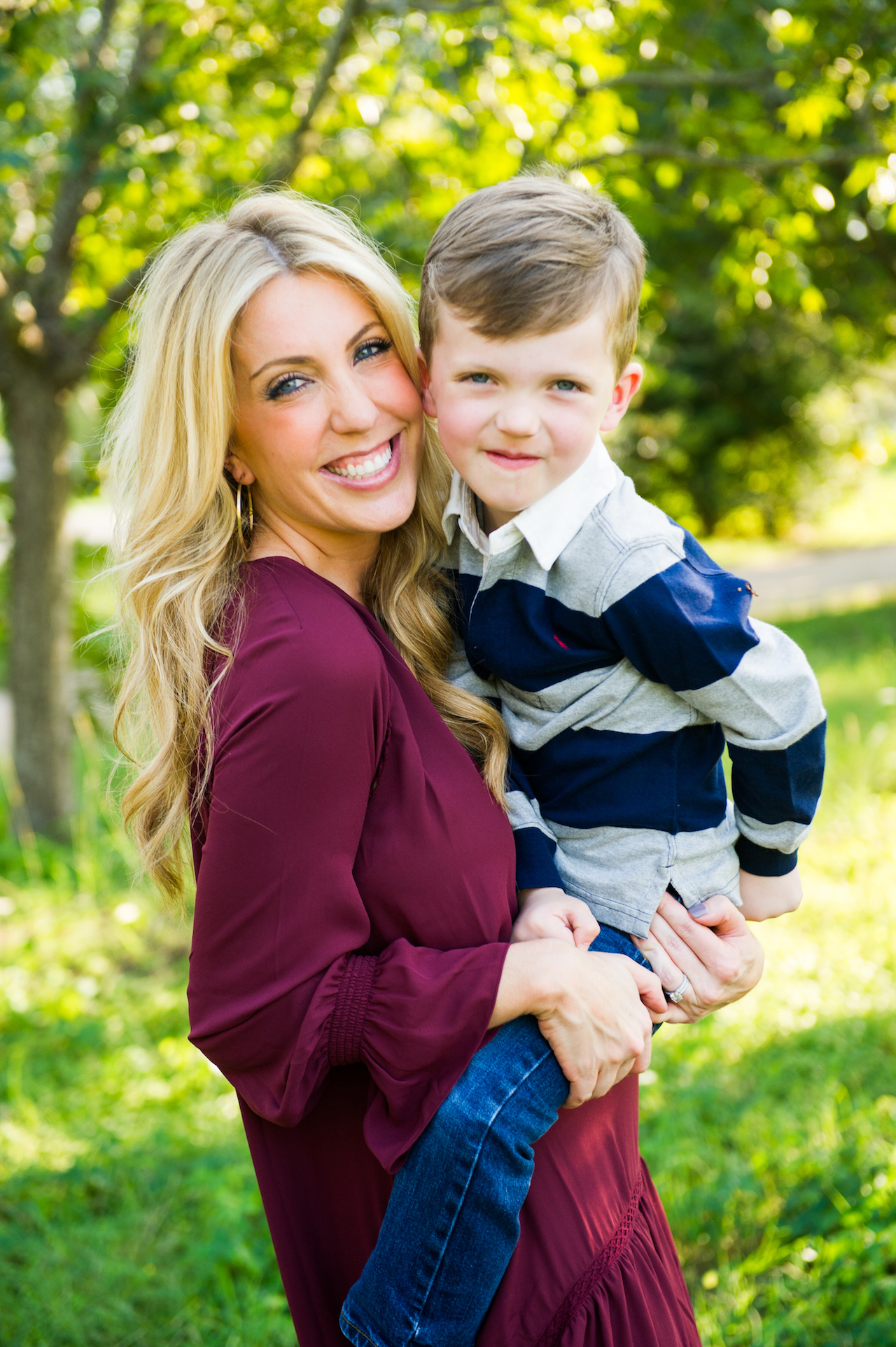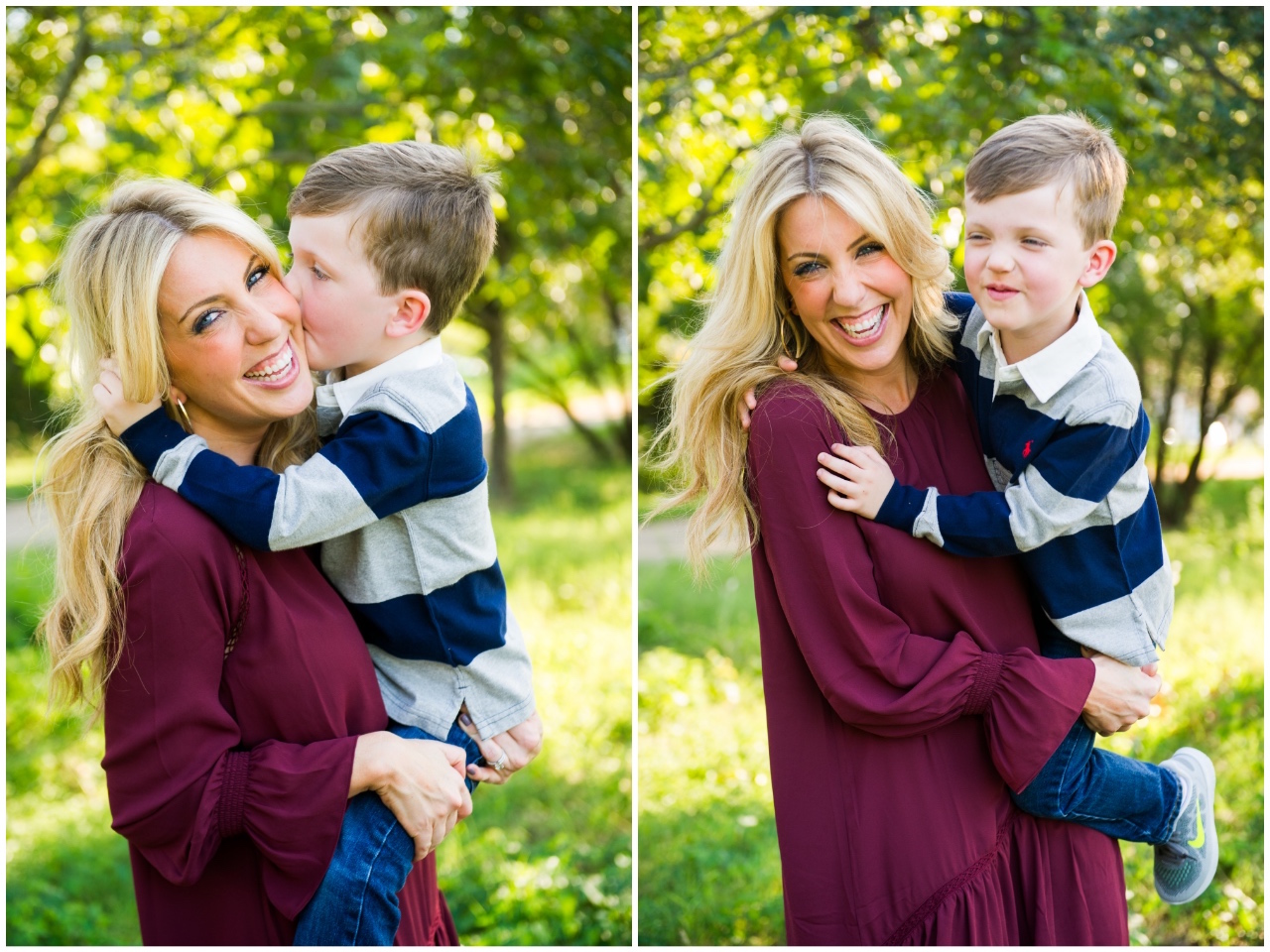 One thing I love about a good photographer is that they can create art and a fabulous photo just about anywhere!  We were literally in a park in Mueller sweating to death and Luke was NOT having any part of it and she STILL got these images.
Investing in a talented photographer will save you so much stress because if you show up with your kids and most of you are in a good mood they will create magic!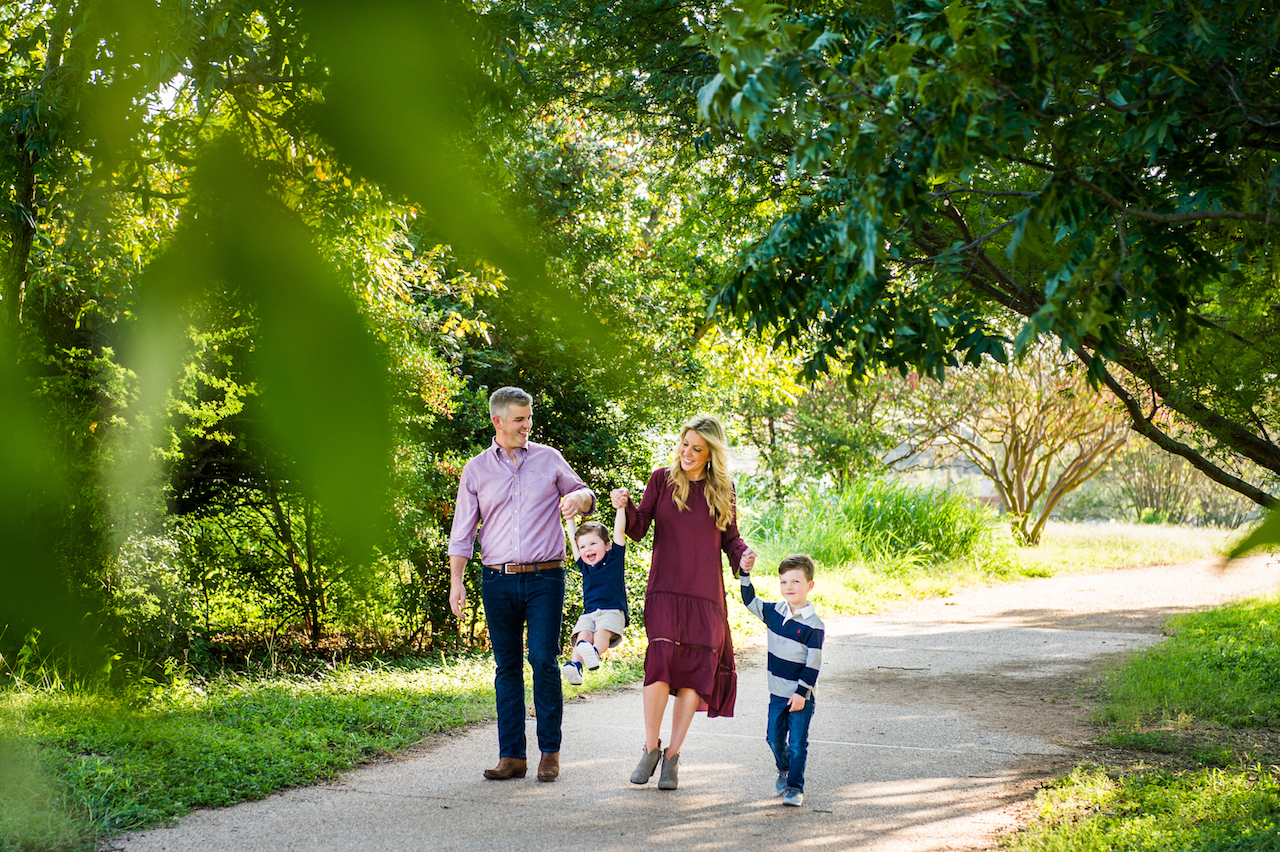 Ford is at such a fun age.  He was actually really into the camera this time which was  a treat considering Cory has been chasing him around with a camera since he was born.  He threw himself up on this picnic table and posed just like this and we all DIED.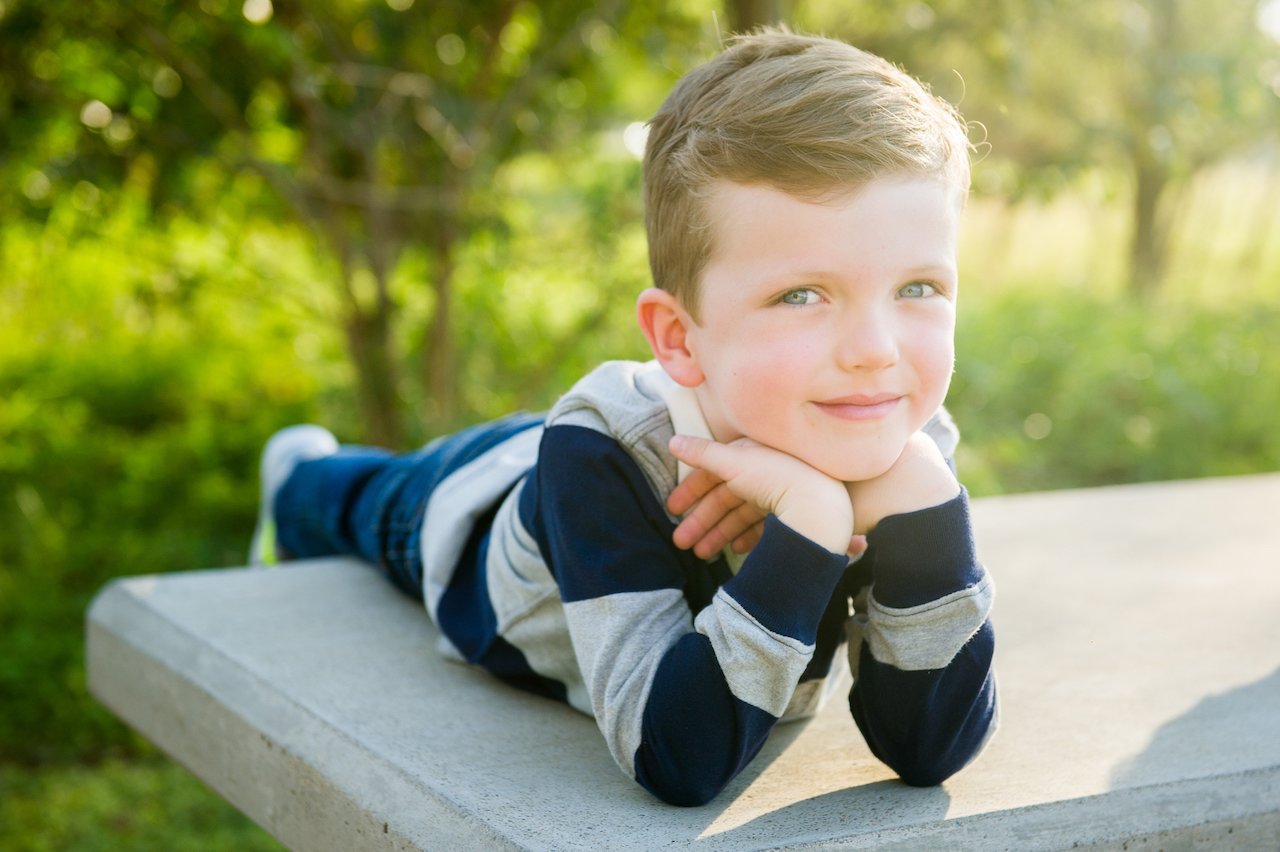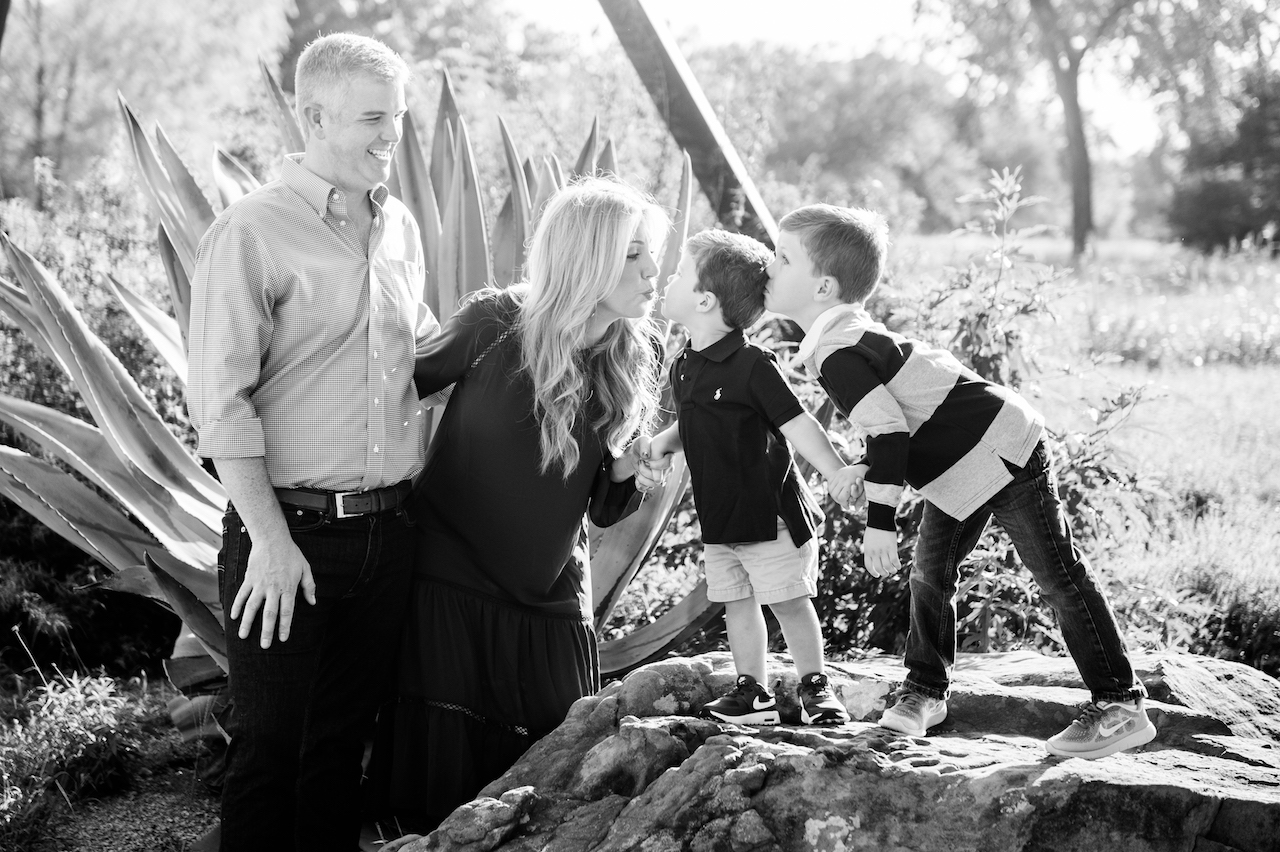 I mentioned Luke wasn't really into it but these pictures were so sweet and I can't get over how much he is a carbon copy of Trevor!  Double handsome if you ask me.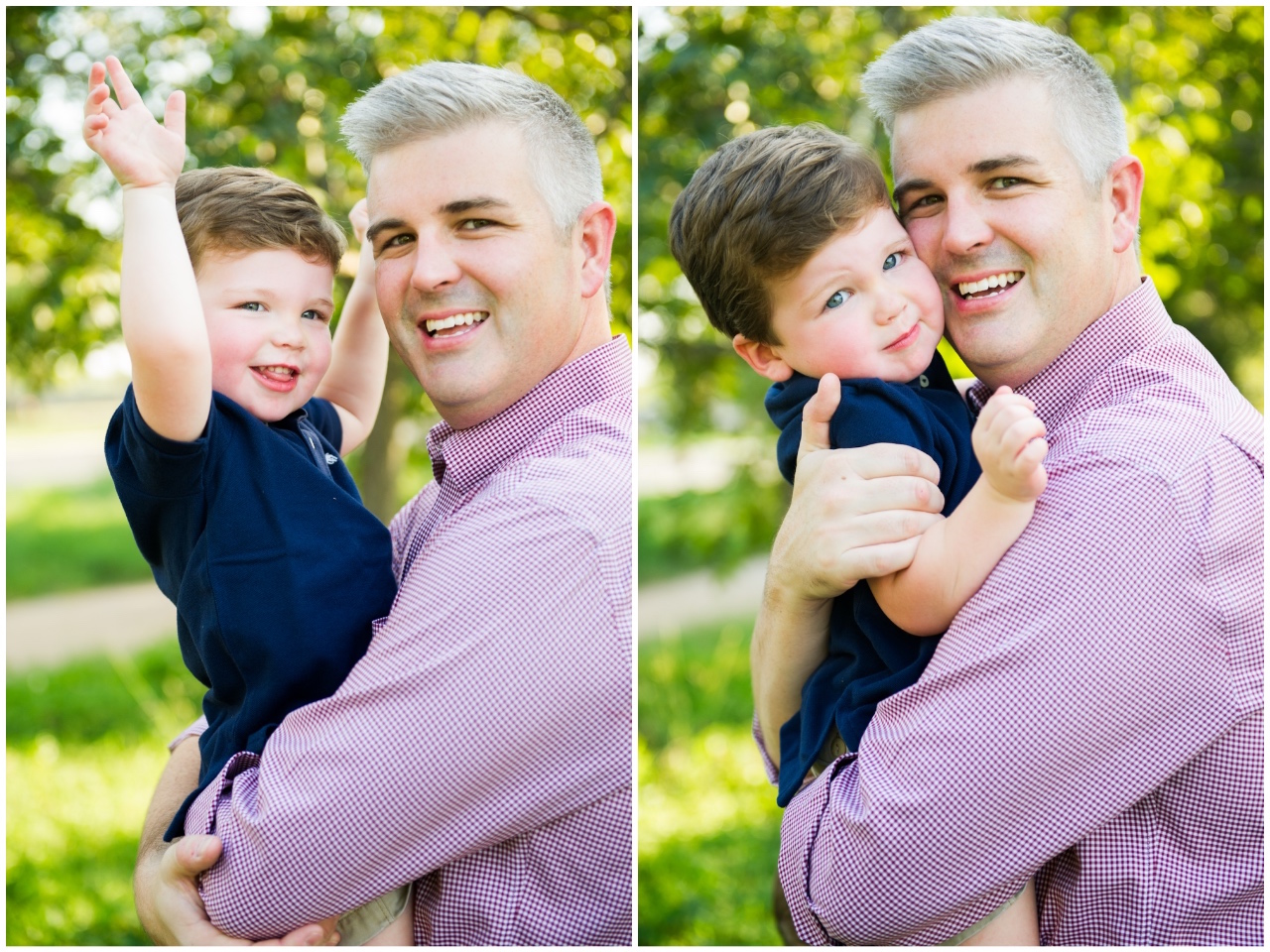 Luke joined Ford on top of the picnic table and as long as Ford didn't touch him he was into it.  For like 2 minutes.  Gotta be quick!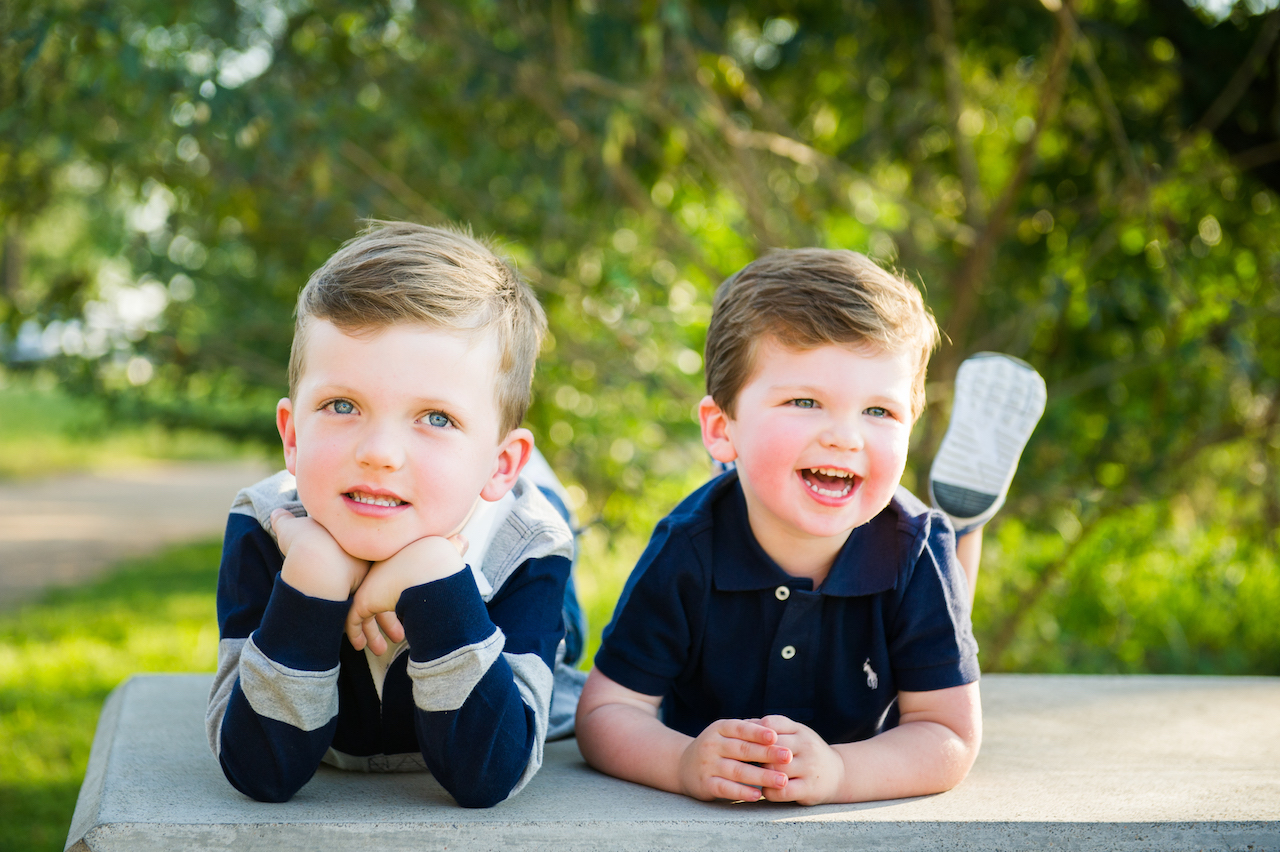 See…didn't want to be touched.  Which is so opposite from the way he is every day!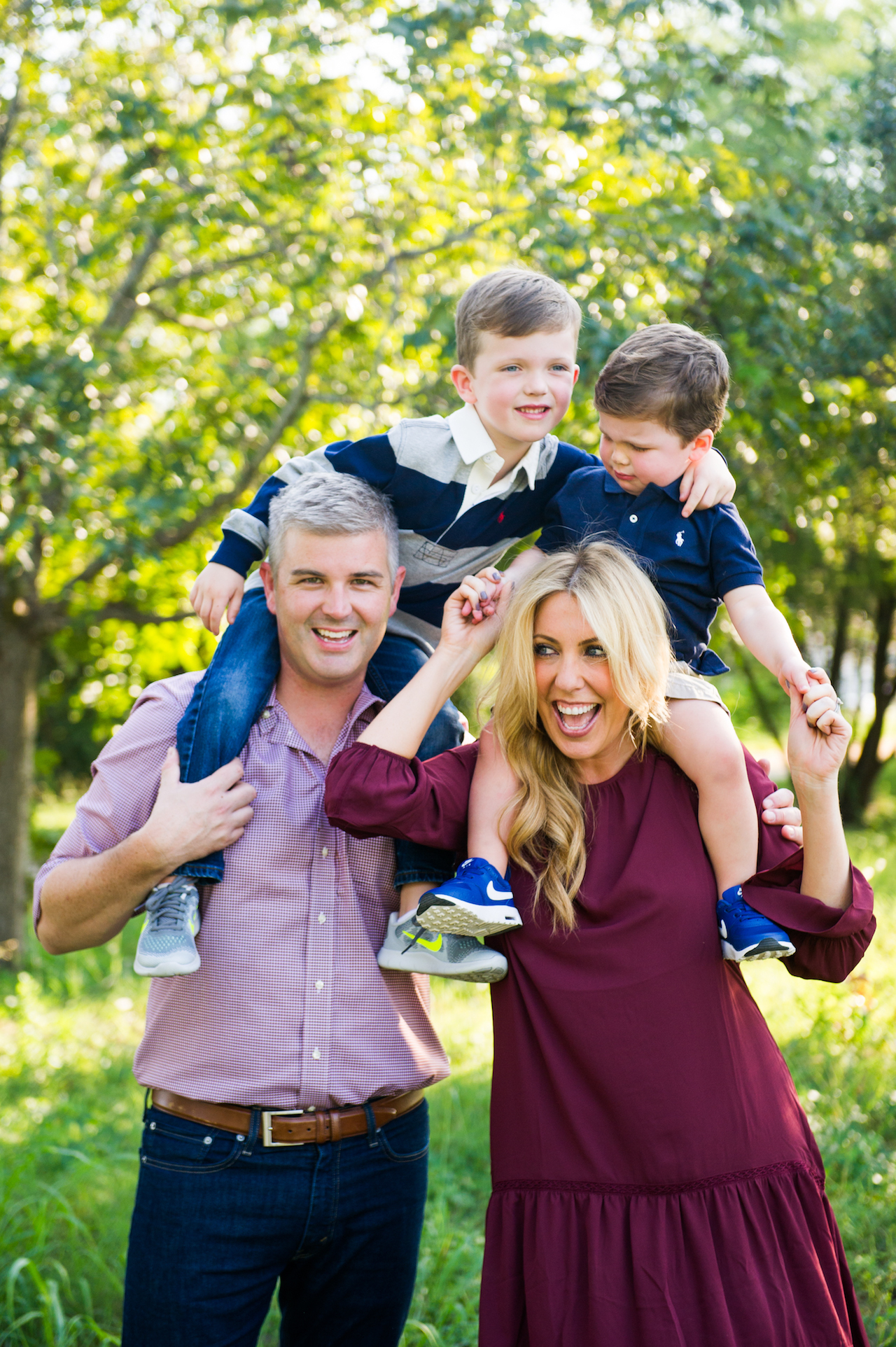 At this point we had to just laugh.  I always like getting some of these fun outtakes.  Trevor's such a good sport at these things and I am so glad we went ahead and got these photos ready and it's not even NOVEMBER!!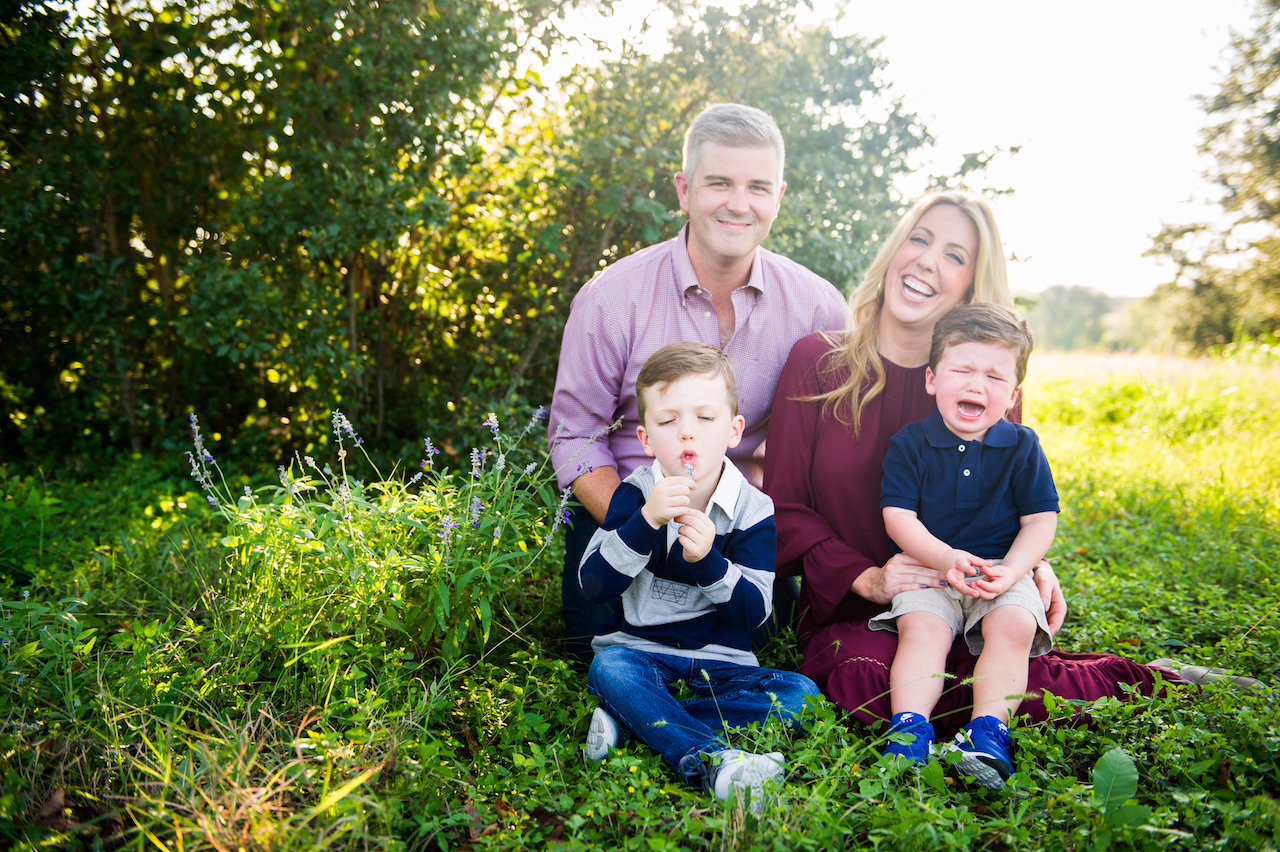 Okay so here is your challenge.  Take 15 minutes TODAY and schedule the shoot.  Reach out to any of these incredible photographers listed below and I guarantee you will not be disappointed.  I have worked with all of them many times and they are so talented.
Oh yeah…and don't forget to get one of you and your honey :-).  Now who's ready to kick off the holiday season?
SWIPE LEFT TO SHOP