I absolutely LOVE the beginning of a New Year!  I am a goals gal and I love the feeling of putting all the decorations away, doing a good purge and starting fresh in all areas of my life.  Regardless of whether you resolve to get moving this year or cook a little cleaner I absolutely believe that some new gear will get you excited to stick with your plan.
In the interest of the new year I wanted to share a few of my favorites that I think will help you get excited to conquer 2018 and beyond.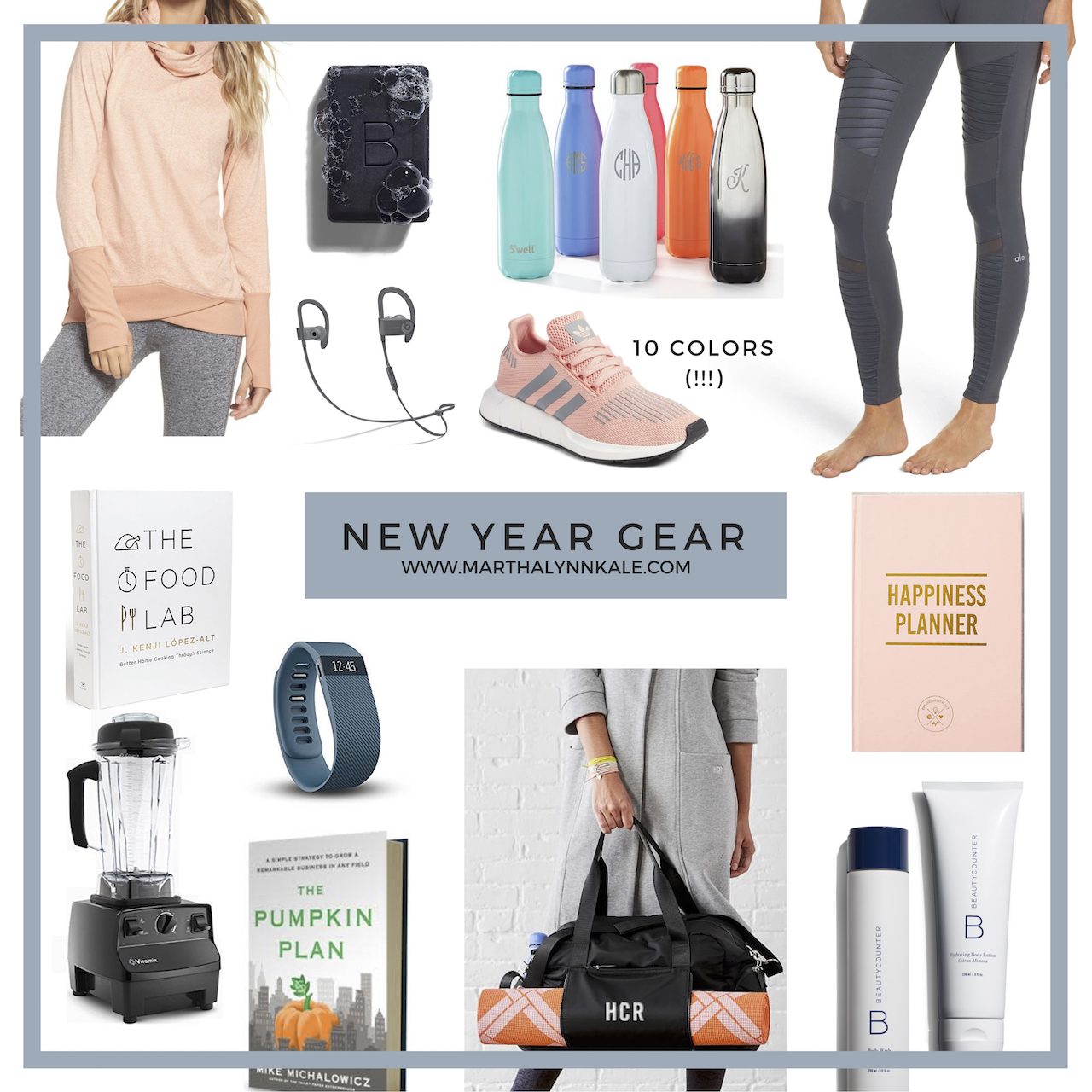 Pullover |Charcoal Bar | Swell Water Bottles | Leggings |Wireless Headphones | Adidas Sneakers |The Food Lab book | Happiness Planner book | Fitbit | Vitamix | The Pumpkin Plan book | Yoga Mat | Yoga Bag | Body Wash | Body Lotion
KICKSTART YOUR BUSINESS:  The Pumpkin Plan and Profit First are two of the most influential business books I have read in the past two years.  I have had the honor of meeting AND working with the author of these books right now and I gotta tell you he is the REAL deal.  His no nonsense (and often funny) approach will help you find your "pumpkins" (aka perfect customer) and profit in 2018!
COOK YOUR WAY INTO 2018:  About 10 years ago I set the resolution to "learn to cook"…my goal was simply to learn to cook one new thing a week and it was one of the best resolutions I ever set.  I fell in love with The Food Network and learned the basics and I still cook menu items I learned to cook that year.  The Food Lab is one of the most interesting books I've ever come across and if you are in the market for an Instapot or Vitamix (currently $150 off as I'm hitting publish), the time is NOW.  With our kitchen reno almost finished I am itching to get back in the kitchen this year.
GET IN SHAPE GIRL:  So whether you are needing to up your water intake or just want to look cuter at the coffee shop (raises hand).  I've included a few must have items below.  And if you only get ONE item…get yourself these leggings, they tuck everything in and are long enough even for long legs!  I am admittedly not the most disciplined about exercise but I do get on a scale every single day – keeps things from getting out of hand and this one is really pretty in the bathroom.  Oh and can't go wrong with a monogrammed yoga mat…too cute!
READ MORE:  This is the one I'm gonna focus on this year so PLEASE comment with your favorite books below.  Mainly I need to have more me time and less screen time so I am committing to this!  What Alice Forgot (same author as Big Little Lies) was one of my favorite books this year and Jen Hatmaker's latest book Of Mess and Moxie is fantastic if you are looking for something light and fun!  Need a little life pep talk?  Check out You Are a Badass…the name alone should get ya going!
CLEAN UP YOUR BEAUTY ROUTINE:  You didn't think I was gonna miss the opportunity to tell you how important it is that you get your personal care products cleaned up did you?  This one is SO easy, simply replace your products with safer choices as you run out!  Download the EWG's Healthy Living app and check out what you are currently using if you want to know what's up.  Don't know where to start?  How about new Body Wash and Body Lotion?  You will LOVE them I promise.
Alright…now it's your turn?  What are you resolving to do this year?
KEEP SCROLLING FOR THE FULL ROUND UP