Well we did it!  I survived my first summer off from the salon and we just rolled back in town after being back in my hometown for three weeks.  It was exactly what we all needed but we are summered out and hanging on by a thread.  I can honestly say we are more than ready to get back to schedules, back to school and back to sports!  School start for us on Wednesday so I have done the unthinkable and waited until the weekend before to get us all squared away so a partnership with Academy Sports and Outdoor  came at the PERFECT time for The Kale Patch.
I've got two boys, two different schools and for the first year they are BOTH in sports this fall.  #Boymom central up in here and if you know me then you know I like to keep it organized.  We are super lucky that our booster club offers pre-packaged school supplies at an incredible price so thankfully I'm not having to scurry around after any pencils or folders (praise hands).
We do however need to stock up on our basics and do it quickly so we are ready to conquer a new year feeling and looking fresh!
When it comes to shopping for the boys I stick with mix and match classics that are durable and come in both of their signature colors.  Ford has been red since birth and Luke blue – I assume it's because their rooms are designed that way but they truly always pick their colors when given the option!  It's also getting increasingly difficult in our house because their sizing has nearly merged.  Laundry can be confusing so I like getting them completely different socks and underwear so it's easy to identify and sort and back to school is the perfect time for fresh socks and undies!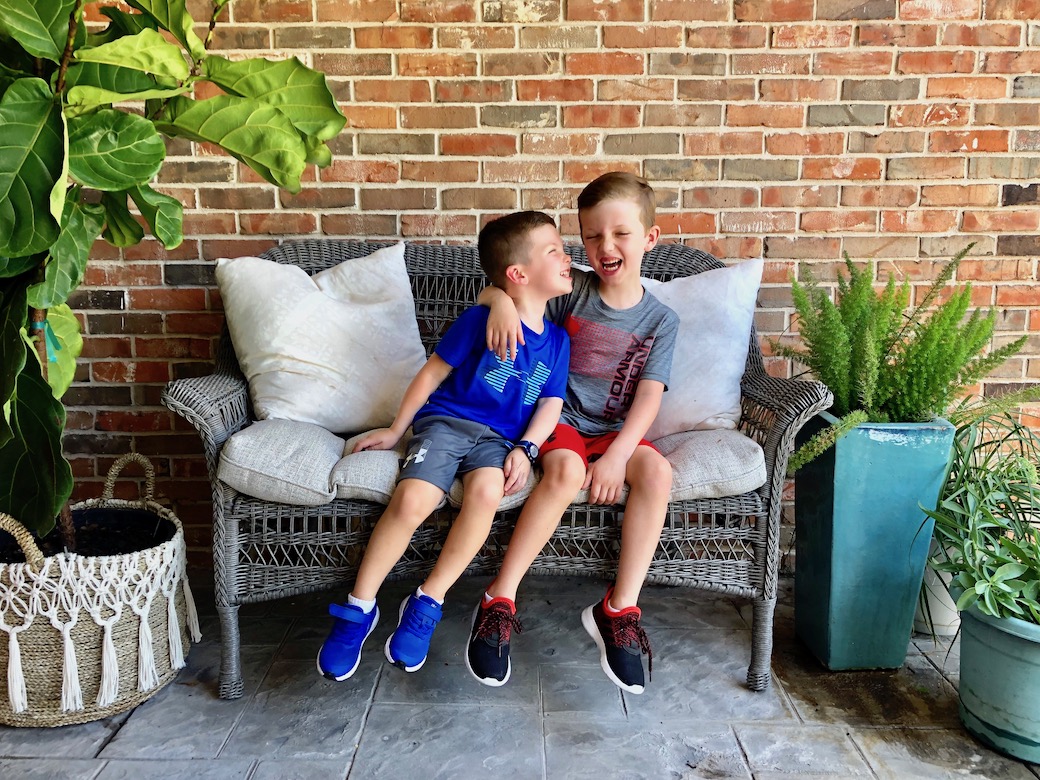 This Fall, Ford is hopping back into tennis and Luke is starting soccer, so we needed a few of those staples as well to make sure we are geared up without breaking the bank.  And while we are at it I think Mom deserves to be geared up too – I mean who's gonna be sitting on the sidelines cheering my guys on?  This girl of course!  Trevor of course pointed out to me that I clearly have a signature color as well.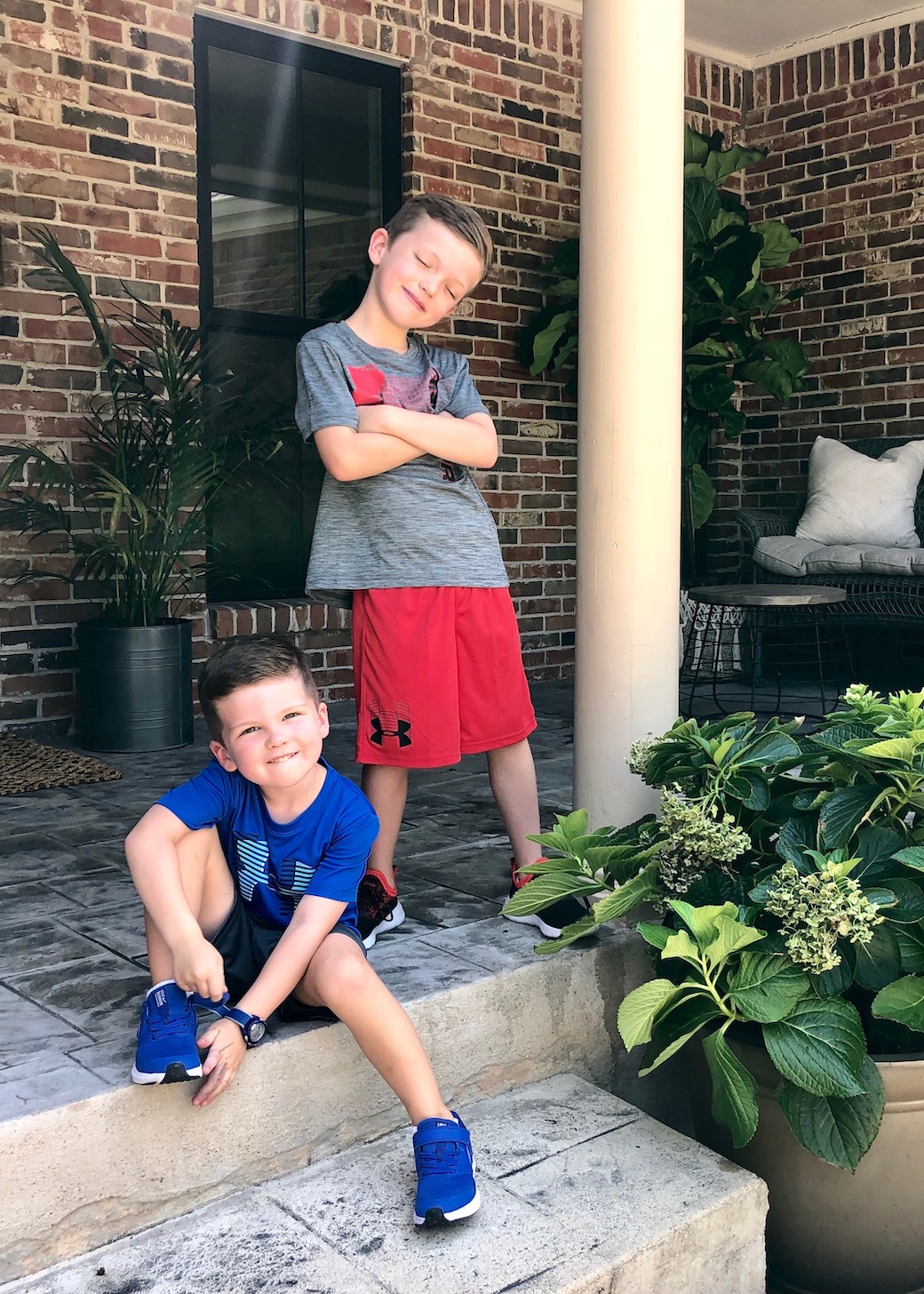 I've rounded up our must-haves for all you boy moms out there so you can knock it out of the park this fall (pun intended of course) and have your best year yet! Oh and you may laugh at the pink sweatshirt, but it's 100 degrees in Texas which means the AC is cranked inside everywhere and I of course have #fearofbeingcold so I actually did buy that for myself and haven't taken it off since.  You.  Are.  Welcome.
Happy back to school – AND back to sport!
This post is in partnership with Academy.  All opinions are of course my own.
Ford is my red guy.  He is playing tennis and is starting to get very serious about dressing himself (pray for me mamas).  This means making it easy to mix and match, so he can literally grab almost any pair of shorts and any shirt and it will mostly match.  Mostly.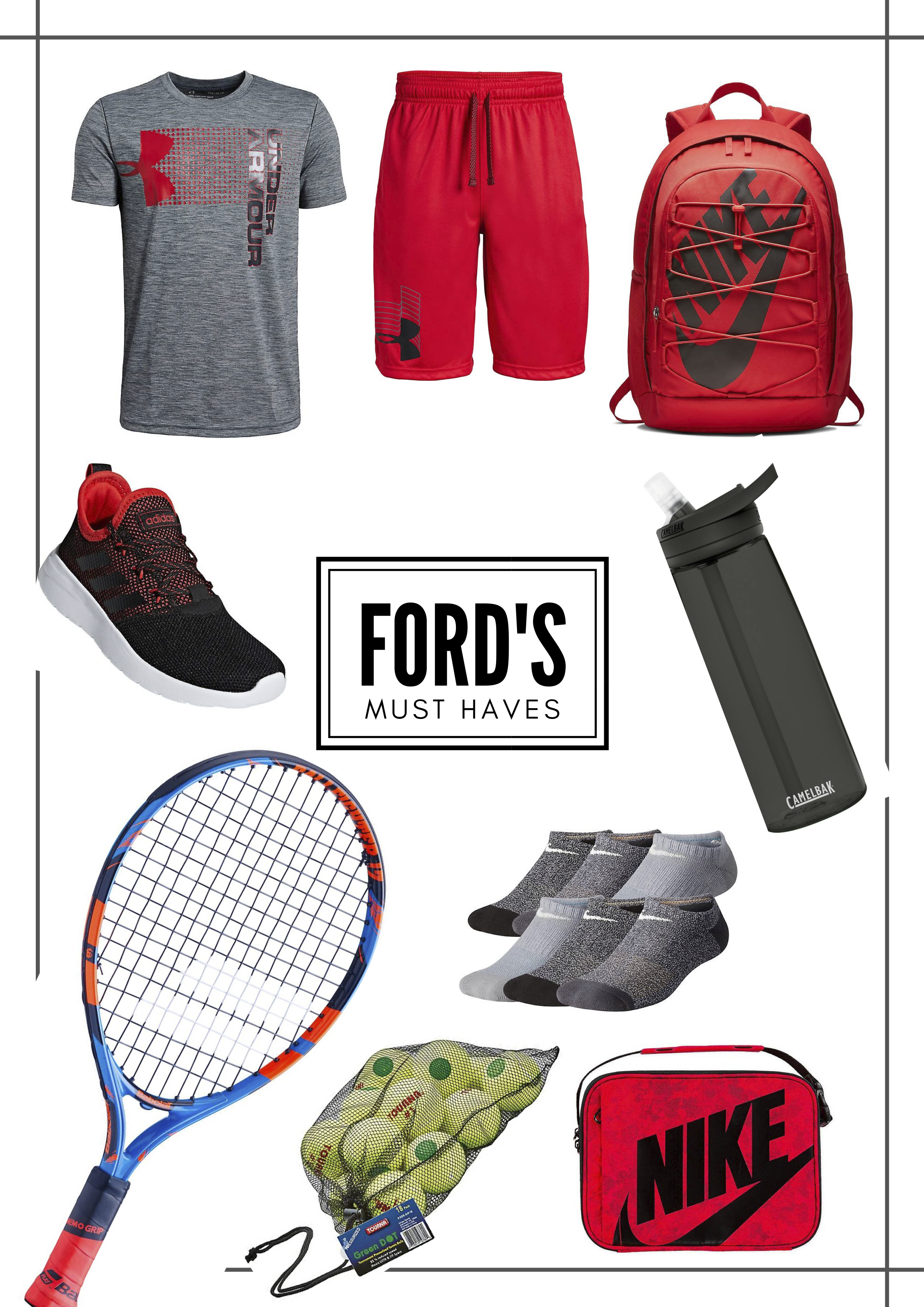 Luke is my blue guy.  This year he is starting REAL soccer with a team, so we need things like shin guards and cleats, and he is VERY excited about these no show socks.  I love them because they are fun but when they are actually in his shoes they look normal.  Winning!  At Luke's preschool, they have asked for no backpacks this year due to space constraints so that's easy, and if you have a little guy and aren't onto these CamelBak Kids bottles, get on it NOW!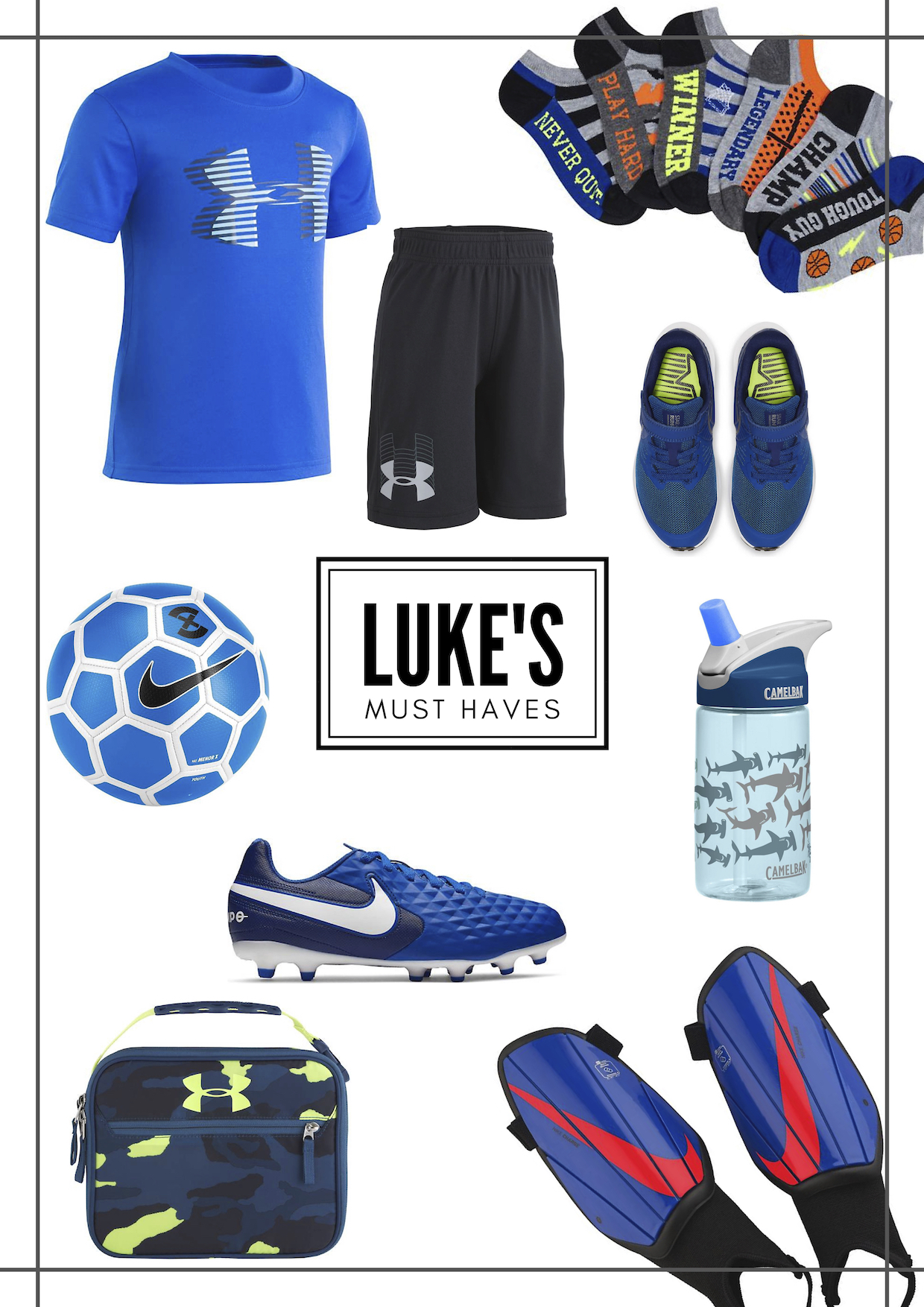 Who doesn't love a crisp white Yeti, a fresh pair of sneaks and the comforts of a chair and a rolling cart for just about any sport?  I live in this color pallet and may as well get credit for all those steps with the FitBit right?  Oh and don't knock a fanny pack just yet – they are EVERYWHERE right now and the classic Jansport is low-price and easy, and you can wear it traditionally or crossbody.  Done.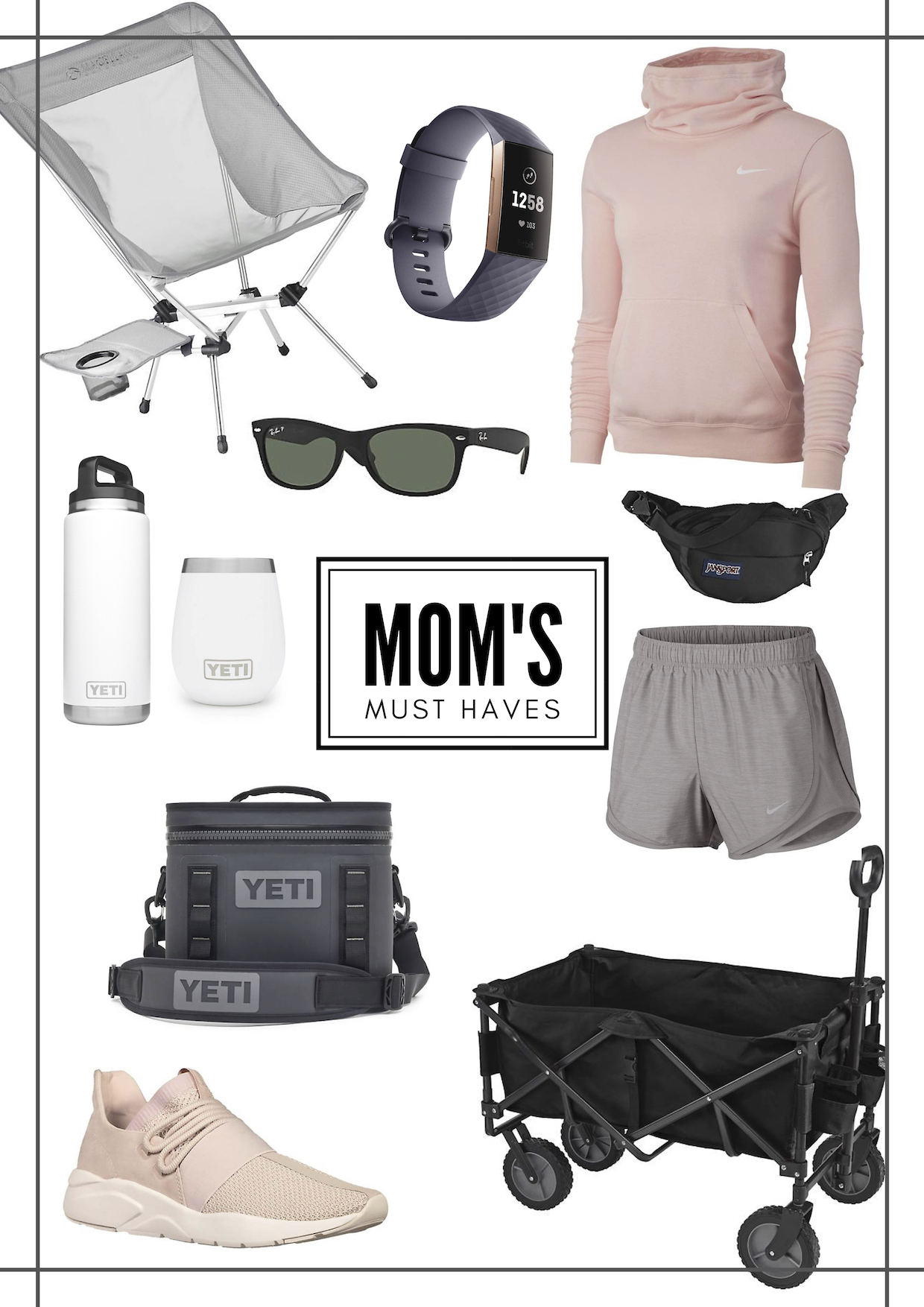 I hope this post leaves you feeling inspired and ready to jump start your year.  
Once again, this post is in partnership with Academy.  All opinions are of course my own.