It's hard to believe it's already been 10 weeks since my last haircut!  Hair grows inconsistently and so by around 8-10 weeks your haircut will lose it's shape (shorter cuts do so at a much faster pace).  I pushed it this time because Austin Fashion Week meant I would be putting it through the ringer for daily events and I knew I wanted it to be long enough to wear my extensions (yes, clip on extensions are my secret).  
I have been loving the "lob" (long bob) for years now and I maintain that it's the most versatile haircut.  You can still do cute ponytails and updo's but it takes enough length that you are likely to get almost every dead end and get a true fresh start!  I even gave my friend Sara a slightly shorter version on Camille Styles last week!  We left the ends of my new cut pretty blunt which keeps it current and I absolutely love how thick my hair feels!  All of my hair that fell out when I had Ford has ALMOST caught up…yay!  Oh and now that it's healthy and I'm off for vacation soon I am vowing to keep this spray handy so that it's protected from heat AND the UV rays!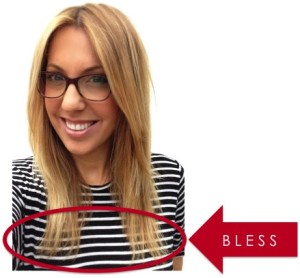 Okay so how do you know how much to cut?  Comb your hair all the way smooth and look at the ends…if it's thinning out like this pitiful "before" of me then cut it off (I had to lose about 4 inches)!  It's better to have healthy hair that's slightly shorter than to go around with scraggly ends…right?!
So what do you think?  Is it time for a summer cut?  Give us a call at Mirror Mirror (512)420-8868 and anyone on the team would be more than happy to talk you through what's best for your hair!  Hope to see you soon!   And because I know you will ask…I used the Living Proof revitalizing spray to protect from heat, Flex to set the curls with a one and a quarter inch hot tools curling iron, and Flex to finish!