As a stylist, I see a variety of personalities that make their way to my chair on a daily basis.  There are those that care a lot about how they want their hair done (great!).  There are those that genuinely don't care what you do because they trust you (also great!).  Then there are the people that act like they don't care while secretly having inner opinions and are praying that you can read their minds (…uh oh!).  That's where I come in.  I like to think that I am pretty good at doing hair but that's just the tip of the iceberg.  A lot of what I do is peeling away the layers to get to the bottom of what exactly my clients want to see when we are finished!  My goal is to manage expectations so that everyone is on the same page and so that not only are you in LOVE with your hair when you leave but you want to tell everyone in town how fabulous your time was at Mirror Mirror.  It all comes down to the consultation and there are a few tips that will help you ensure that you have a fabulous consultation the next time you are in the salon.
BRING PICTURES
Pictures are always a great reference point when thinking about making a change or visiting a new salon.  Keep is simple with just 3-5 photos, more than that can be overwhelming and less than that you may be too attached to the photo, not the hair.  With 3-5 photos your stylist should be able to find consistencies and help you figure out what exactly you like about the photo.  Keep in mind that your goal should always be to come up with YOUR VERSION of what YOUR HAIR can do.
KNOW YOUR STARTING POINT
I think it's really important to take a good look at your hair with your stylist and discuss what you like about it AND what you don't like about it.  If you hate face framing, it's important for your stylist to know that before she adds a bunch of layers around your face.  If you love your natural waves and will never blow it out then it's important for your stylist to know that he needs to work with your natural texture.
STYLING IS CRUCIAL
I can make most hair do most things, I went to cosmetology school and have been doing this for a long time.  You can learn to train your hair to make it do what you want, however if you have no desire to learn to blow out your hair or use a curling iron then we need to talk about that.  Almost every photo that anyone has ever brought to me has had some sort of styling component.  Yes, that celebrity coming out of the grocery store likely used a curling iron (or her hair stylist did the day before) and that's why her hair is perfectly imperfect.
"ALWAYS" AND "NEVER" ARE DANGEROUS WORDS
Be open to change.  Just because you had layers ten years ago that you hated doesn't mean you should never have them.  Similarly, just because you always get a head full of highlights doesn't mean you can't get your desired look in a different way.  If you brought pictures and trust your stylist, trust them to help you achieve your hair goals however they see fit.
HAVE THE MONEY TALK
If you are on a budget, be clear with your stylist about what you are willing to spend.  While they may not be able to discount services it's possible they could help you choose a better option that wont break the bank.  This is also a great time to talk upkeep and how often you are willing to come to the salon for touch ups.  If you are watching the bottom line maybe consider a style that requires less visits.  For example, an ombre or balayage might cost more than a highlight but it might get your hair to a more natural look that will mean less visits to the salon and therefor less money in the long run.
BOTTOM LINE
The bottom line is to find a stylist that you trust, over communicate all expectations and then sit back and let them do their job!  If you follow all of these tips I bet you will love your hair and your stylist will love helping you find the perfect style!
If you have a beauty or style question that you are just DYING to know, leave us a comment at the bottom and myself of Cristina might address it in the next edition of "Ask The Stylist".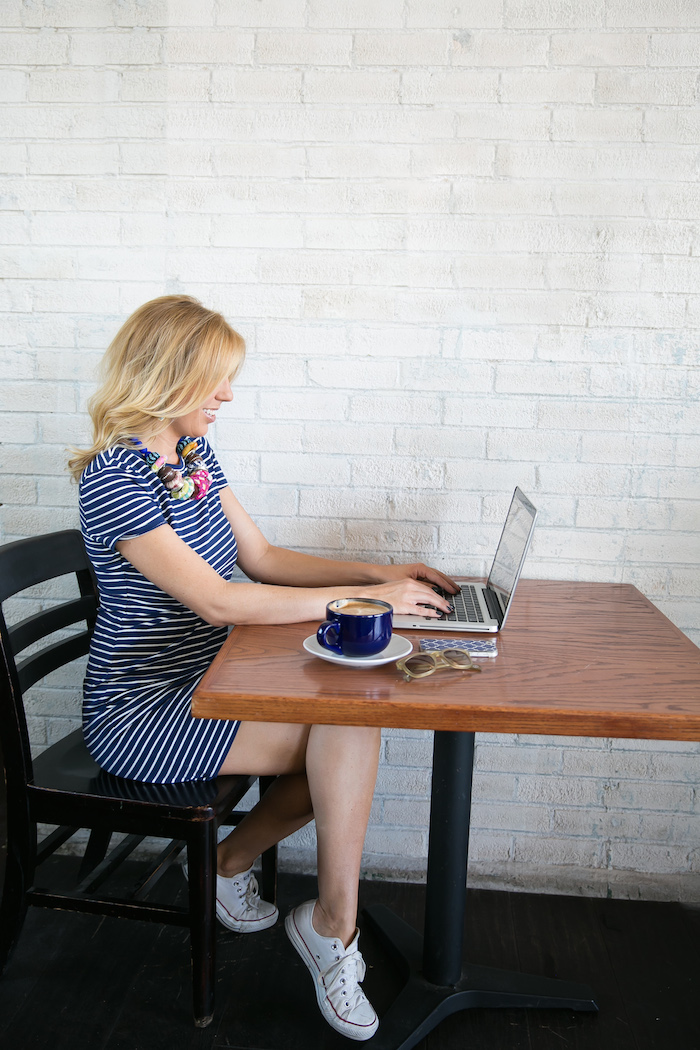 (images via Melissa Glynn)
SHOP THE LOOK
CONTRIBUTOR:

PHOTOGRAPHY:  Melissa Glynn has spent the past six year developing a style that aims to show off just how fantastic you are.  This self proclaimed "Texas girl" loves creating images that are classic, timeless, and lovely.  When she's not behind the camera she loves playing with her pup "Nolte", riding bicycles, traveling, yoga, and a really great glass of red zinfandel!