If you have been following along, back in May I launched the PICK FIVE PLEDGE asking you all to join me in making some safer swaps for yourself and your family.  It's been an eye opening journey educating myself about the ingredients in my personal care products and I am truly loving my role with Beautycounter.  Their mission made MY FAVORITE THINGS list this year and it's my hope that you have dipped your toe in the water with safer products along with me this year.
Even if you aren't on board with the mission of Beautycounter, there is no denying that these products work and there is something for everyone on your list this holiday season.  The Counterman Set launched and sold out in hours….TWICE.  The holiday sets are flying off the shelves and people are scrambling over these "once a season" deals!
I thought you all might like a little round up of the BEST DEALS FROM BEAUTYCOUNTER that will serve you whether you are shopping for your friends and family or yourself (I won't tell).
KEEP SCROLLING FOR MORE ON WHY THESE ARE THE BEST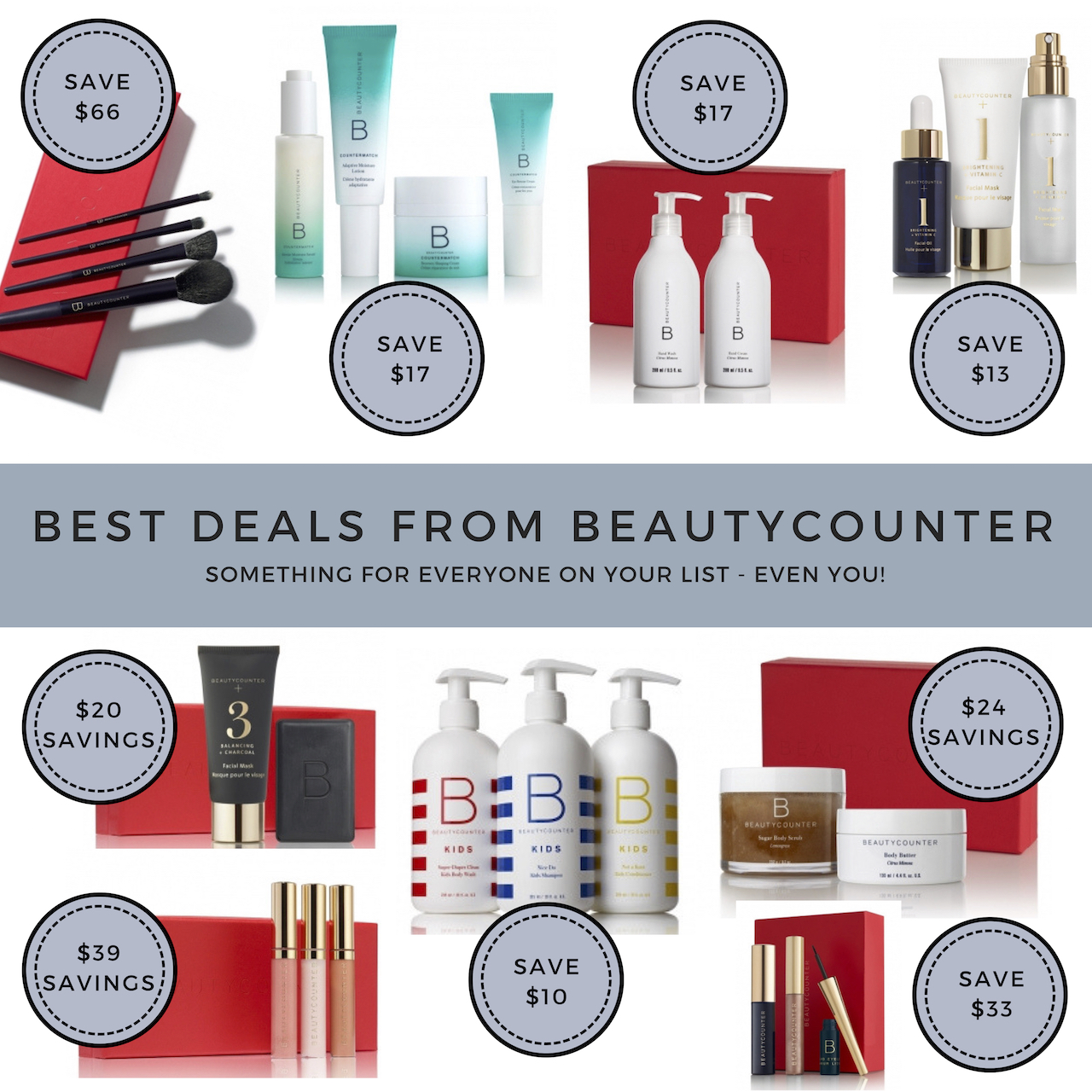 BEST OF BRUSHES SET (save $66!!!) – All brush bristles are made from taklon—a synthetic, polyester-derived fiber that is widely used as an allergy-free, cruelty-free alternative to animal hair.  They are great for anyone who wears makeup (hello)!
COUNTERMATCH COLLECTION (save $17) – The Countermatch Collection is the ultimate solution for hydrated, radiant skin. Powered by Bio-Mimic Technology, each product harnesses the unique life-giving properties of plants to match the composition of skin, giving it precisely what it needs and nothing it doesn't.  Great for virtually every skin type – the lotion sold out in hours as did the travel set!  Buy the whole set and save $17!
CITRUS MIMOSA HAND DUO (save $17) – definitely get one of these for every bathroom in your house (you will thank me) and then grab one for your mom, mother in law and every teacher and hostess gift for the rest of the season.  Split them up and use them as stocking stuffers if you want but take it from THE TODAY SHOW who named this duo one of the best gifts of the season!
BEAUTYCOUNTER+ COLLECTIONS (save $13) – I am partial to the Brightening Set but I promise there isn't anyone on your list that wouldn't LOVE a Balancing Set featuring our best selling Charcoal Mask.  This set was the product that really showed me the performance power of Beautycounter and you will love it!  Again, your mom, MIL or sister would LOVE one of these and treat Grandma to a Plumping Set!
DAILY DETOX CHARCOAL SET (save $20) – this is one of my favorites from the holiday sets and I can't think of anyone that would't love this especially the men in your life!  At right around $50 it's a great price point and you almost get the charcoal bar for free!
KIDS TRIO (save $10) – Beautycounter believes children deserve to be protected, which is why we've taken special care to create a bath collection that is gentle, effective, and kid-friendly without any hidden ingredients. Kids Bath Collection includes our berry-scented Kids Body Wash, along with our Nice Do Shampoo and Not a Knot Conditioner, both with an orange-vanilla swirl scent kids will love.  Every family needs a set and grab one for the grandparents house too!
WINTER GLO BODY DUO (save $24!!!) – This set will get you feeling soft and supple in two easy steps.  Buff away dryness and deeply hydrate for soft, smooth skin. This set features full-size products and is packaged inside a red gift box with crinkle paper.  Gift as a set or break it up for teachers or secret santa gifts!
POLISHED POUT TRIO – Lipglosses (save $39!!!) – these are not only best sellers for Beautycounter but they also happen to by MY favorite lip glosses!  Our Lip Glosses stay fresh and beautiful thanks to the antioxidant power of vitamin E and don't contain synthetic fragrances.  Perfect for every complexion and perfect stocking stuffers!
NUDE EYE TRIO (save $33!!!) – obviously I tend to gravitate toward the nude colors but this little trio has a cream shadow, liquid liner and a travel mascara.  Perfect for quick mornings!  Again, keep them together in their cute box or break up the set for smaller gifts.  Feeling bold?  Go for the SMOKEY EYE TRIO for the same savings!
Whether you are snagging a few last minute gifts, have been meaning to stock up for yourself or just want to try some safer beauty products…I hope you will shop Beautycounter this holiday season and EVERY season.
Merry Merry!
Martha Lynn