It's been awhile since I blogged and honestly I wasn't sure if I would pick it up again.  Last year was brutal.  We endured a home remodel and salon expansion, Trevor started a new job that requires a ton of travel which means me winging it with two small kiddos and a business to run.  All of that stress threw me into a health tail spin and I just didn't feel like talking about outfits and taking selfies.
But I'm back.
Mostly because you all encouraged me to do so after this post and because I miss it.  I had convinced myself that nobody really was listening and that there are so many bloggers and influencers out there that one more was overkill. I am not a writer but I do love to write and if you know me, you know I have A LOT to say!  I created this blog as a creative outlet and while everyone pushes you to have a content calendar and post often and monetize it, that takes a lot of work. Trust me there are entire enterprises behind your favorite "stay-at-home mom blogs." I've decided to give myself grace and just have fun with it again.  I want to share more of the inside of my life and let you in more than I have before.
So here we go – the first post and it's a doozie!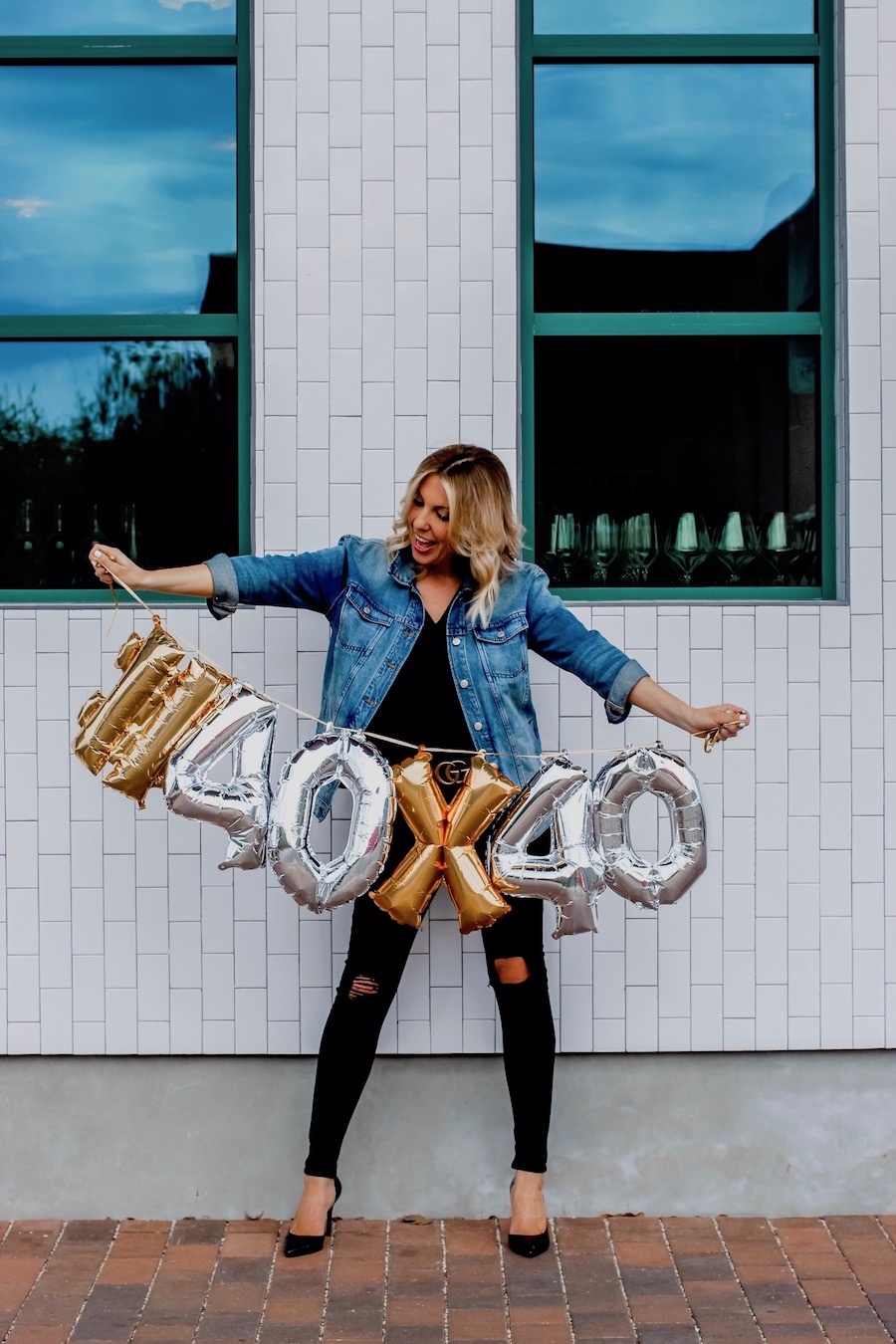 I'm turning 40 (gasp!) next February and it also happens to be a leap year so I will get a REAL birthday.  Rather than dread such a big birthday, I've decided to lean into and celebrate this trip around the sun.
I got engaged on my 30th birthday and it's been a whirlwind of massive life changes for the past decade.  The salon came one week after our honey moon and then came two babies, three houses, an expanded salon and all of life and business's ups and downs along the way!  I'm embarrassed to say I've let friendships fall to the wayside and I have thrown myself into what starting a business from the ground up means all while dealing with my own health struggles and a hell of a fight with postpartum depression (more on both of those topics on a later post).
I figured I'm due for some FUN!  And I plan to be a little selfish (for once) – "put my own mask on" so to speak so I can be the best wife, mom, friend, salon owner, and team leader I can be.  We only get this one life to live and this season of life can get a little (okay a lot) heavy at times.  
This year is about taking control.  Of everything.  My health, my finances, my business and most importantly my family.  We have been hanging in there but I'm ready to be back in the driver's seat.  And I'm gonna bring you right along side me!
And so I give you "Martha Lynn's 40 x 40"
This was inspired by a friend of mine who did 50 things she wanted to do before she turned 50.   I can't remember if she did it all in a year or not but that's what we are doing here people – we have 12 months!  I asked for all of your help and you guys gave me some GREAT ideas.  The first 20 or so came quick and then it took some digging to craft the rest.  I want to be intentional with my time this year and carve out space for myself and my friends and family!  I have big dreams and goals and I think forcing myself into some accountability will be a good thing.
Oh and I'm going to be sharing it all with the internet so there's that.
One thing I will not do is let this stress me out.  Which is why I didn't add anything like "train for a marathon to my list" although Trevor is currently training for one that will take place in Berlin which is why "Oktoberfest" made the list!  Yes this is an exhaustive list of things I'd like to accomplish but I refuse to let myself feel any bit of guilt about the progress.  Since this has been underway since the beginning of the month I am already proud of steps I've taken toward accomplishing this list!  
Okay now the real real – how the hell am I going to pay for all of this?  
Honestly I have no idea but I believe when you write something down and put your mind to something opportunities will present themselves.  I think my Beautycounter business will primarily fund it and I'm counting on all of my friends keep me accountable and help me find a way.  One of my goals is to become more fiscally fit this year so that will help as well.  Some of these trips are already planned and so I've added certain goals to the trips.
I totally think I can pull this off but I may need help.  If you see anything on this list that you have a hook up for send it my way!
So here it is…the list.
40 things I plan to do before I turn 40.
aka #MLKs40x40
1.  Spend my 40th birthday on a beach with my friends
2.  Do a screen detox
3.  Read a book a month (books of the Bible count too)
4.  Take a hip-hop dance class
5.  Go on a trapeze
6.  Put my feet in the Atlantic AND Pacific Ocean
7.  Stop drinking Diet Coke for good
8.  75 rides on the Peloton
9.  Do one thing that scares the shit out of me
10. Launch that secret project I've been working on
11. Cook the perfect steak
12. Go somewhere Trev and I have never been – just us
13. Take the boys to a MLB game
14. Bring back 3 Great Things
15. Go fly fishing
16. Write a letter a month
17. Go on a trip with just my mom
18. Take Ford to his first concert
19. Introduce 100 people to safer beauty
20. Take a sabbatical from doing hair
21. Take the boys on a trip by myself
22. Go to Oktoberfest
23. Watch the sunrise
24. Leave the country
25. Visit El Cosmico
26. Host a dinner party
27. Keep a plant alive
28. Visit a National Park
29. Take an art class with each kiddo
30. Go two stepping
31. Take the boys to ACL Festival
32. Go Kayaking with the boys
33. Rent an RV
34. Plant, grow and eat something
35. Ride a horse
36. Become both fiscally, physically, and mentally fit
37. Family Camping Trip
38. Share my story about postpartum depression
39. Take Luke to his first Auburn game
40. Give back in a meaningful way
And there ya have it.  This is where YOU come in.  I need some accountability friends.  Wanna join me on any of this fun?  Have a hook up?  I want to hear from you.  Make sure you are following along on Instagram for up to date progress and I'll be posting updates here as well!
Thanks for giving me time and for welcoming me back to the wild west of blogging.
Let's do this!
XOXO
Martha Lynn