When your last name is KALE, you feel a certain responsibility to love the green leafy vegetable and I must confess that I do not (there I said it).  I love that kale is so "in" right now and I certainly love my West Elm "Oh Kale Yeah" bag, but to actually EAT it I am just not there… yet.  I will tolerate an occasional Kale chip but beyond that I have always had trouble eating my greens.  
A few weeks ago, myself, my husband and the entire salon team at Mirror Mirror agreed to spend a few months giving our health a makeover (more on that on a later post) with holistic health coach Kim Wilson leading the way.  Each week we are adding in a healthy habit and this week we are challenged with eating our DLG's (that's Dark Leafy Greens)…uh oh.  After I read the LONG list of reasons that you should be eating your DLG's every day if not at every meal I was committed.  I have tried several different ways to incorporate my DLG's this week and it turns out there are several ways that make it easy to get your daily dose!
KEEP IT SIMPLE
Sometimes keeping it super simple is the way to go and Kim recommended this easy preparation for broccoli rabe (we used kale).  We tried it on Monday night and it was a huge hit (even with Ford) and feels special enough to entertain with.  It's warm and cozy and feels more indulgent than a salad.
INGREDIENTS
1 bunch broccoli rabe
2 cloves of garlic
2 tablespoons olive oil
2 table spoons water
pinch of sea salt
fresh parmesan cheese
DIRECTIONS
Wash and cut greens into small pieces.  Warm oil in pan and saute for a few minutes, add in greens and sea salt and saute for another 3 minutes.  Add in water and cover to steam for the final 3-5 minutes or to desired tenderness.  Top it all off with fresh parmesan cheese!
TOP IT OFF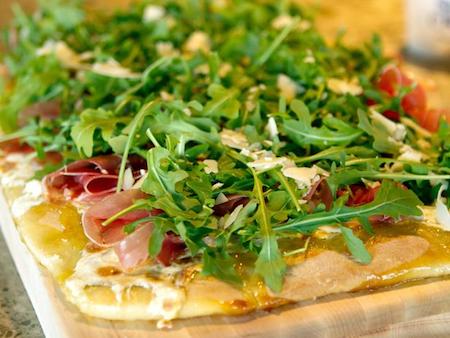 I've really been trying to ADD IN greens to things that are a part of my regular meal plan.  When I need to get something quick for take out I love Gusto because it's right around the corner from my house.  I am in love with their gluten free mushroom pizza and they top the whole thing off with a ton of arugula tossed in citronette.  Yum!  Pizza with a salad on top?  This is going to be my new pizza rule!  Think of other ways you can add your greens into your everyday meals. Stir in a handful of Kale in your favorite soups or ask for a side salad if your meal doesn't come with any greens.
MAKE IT A SNACK
As I mentioned, Kale chips are one of my favorite snacks at home.  They are so good tossed in olive oil and sea salt and baked to a crisp.  If you don't think you like kale…start here!  Kale chips have a ton of room for creativity and I am on a mission to figure out how to make them in "salt and vinegar" flavor.  A reader also recommended this recipe and I am dying to give it a try this weekend.      
LIQUIFY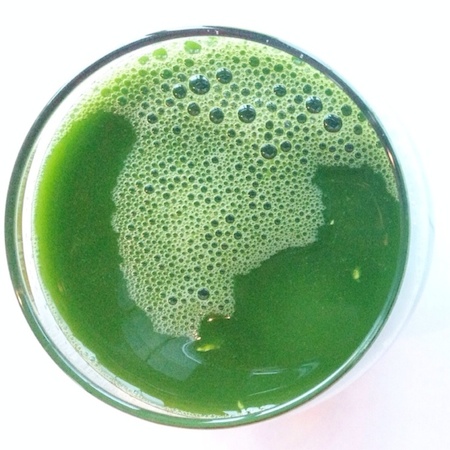 This is the easiest one for me because it's SO fast and great for you.  Whether you go smoothie or juice there are great benefits!  I am always looking for the FASTEST way to an end result and this is the easiest way for me to get A LOT of DLG's first thing in the morning.  I have really enjoyed Central Market's raw cold pressed green juice combined with their apple/ginger/lemon juice for the perfect on the go combo!  If you are more of a smoothie fan, try my super healthy Aunt Ann's recipe below (aren't family recipes always the best).
INGREDIENTS
1 cup Kale
1 cup almond milk
1/4 cup coconut water
1/2 cup frozen mixed berries or peaches
1/2 tsp each chia seeds & flax seeds
1/2 cup ice
handful Golgi berries
Sweetener of your choice!
DIRECTIONS
Combine ingredients and blend in Nutribullet
I have to admit that I am loving all of my new DLG options and it's making it much easier to get my daily fix.  I have a ton of energy and a client even commented yesterday that everyone seemed extra "peppy"…hey, whatever it takes!
Okay now it's YOUR turn!  Share all of your favorite GREEN recipes in the comments below
IMAGES {Pizza, Kale Chips}