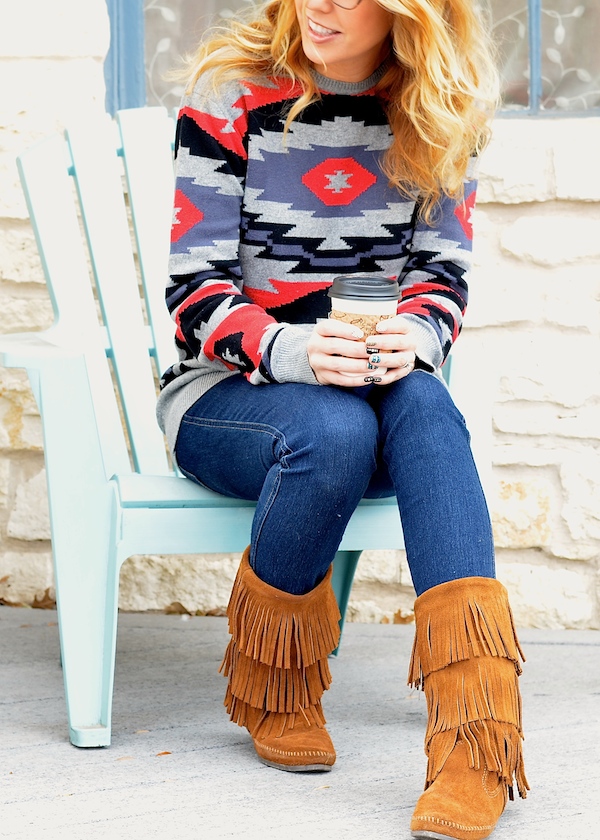 You know that feeling where once you hear about something it feels like you see it everywhere?  That is absolutely how I have felt ever since Cristina told us that FRINGE should be a "Trend To Try" for Spring!  For a few years I have been dreaming about a pair of Minnetonka boots but have talked myself out of it.  This year, with the challenge to try fringe, I went for it and invested in a pair.  I have to tell you that I wear them more days than I don't and they are super comfortable.  For a girl that stands on my feet for a living I have no tolerance for uncomfortable shoes.  They come in full sizes only so if you are a half sizer like me then go down because they do stretch a little.  I'm loving them right now with skinny jeans and leggings but I think they will transition into the warmer weather flawlessly.  Minnetonka's are hand made and have been around since the 40's so while they are a "trend to try" this trend is likely here to stay!
For today's SHOW AND TELL I've included the details from the picture above (yes my sweater came from the mens section of Forever 21) along with a few "fringy" things I'm coveting right now.
We'd love to know…is this a trend to plan to try this season?