I was sitting on my friends patio when I mentioned we should throw her daughter Carson's birthday party at the salon.  You may remember from the DENIM CHALLENGE that Jen is super creative and is known for her eye for design (she designed Ford's nursery).  While her main focus is interior design she is also incredibly talented when it comes to event planning (she can't help herself).  I share in Jen's love for over the top birthdays, my mom remains a legend in the "memorable birthday" department!   Before I knew it, a couple of glasses of wine later we were totally carried away with the greatest idea ever for a 6 year old's birthday party…"Top knots and Tiara's" was born.  Months later the invites were delivered and a soiree was planned that I like to think Holly Golightly herself would be proud of!
Lucky for us we had talented photographer Kate Stafford there to capture the day so we can share with all of you how we put together "Top Knots and Tiaras".  Read on for the details so you can start the guest list and treat the girls in your life (both young and old) to a girly afternoon they wont forget!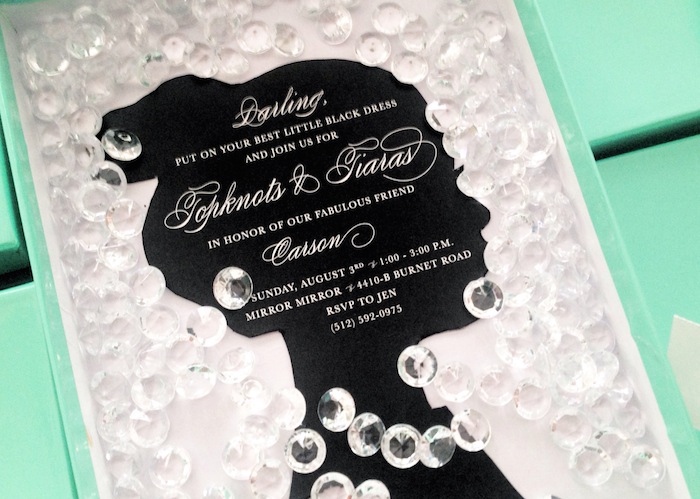 Invitations were designed and created by Queen of paper, Callie Burnett of Calliespondence and were hand delivered in a Tiffany blue box tied in a satin white ribbon.  A few loose jewels in the box helped set the tone for the party!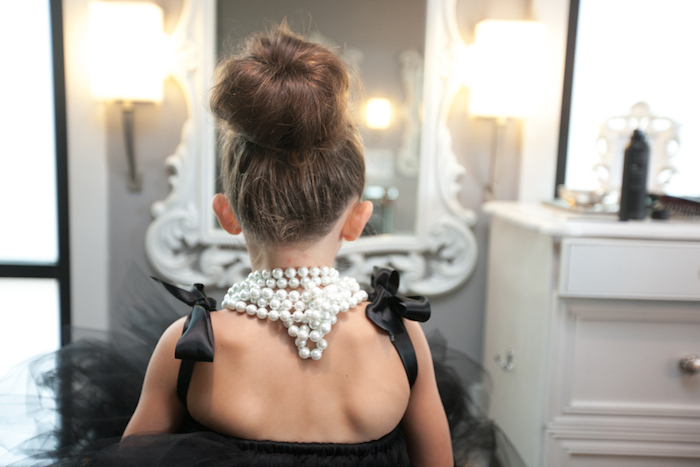 As the guest arrived, they were brought over to our "beauty station" to get their hair put in a top knot.  We were able to fake more hair by using one of these mesh bun makers around the ponytail before we wrapped the hair around it to add fullness.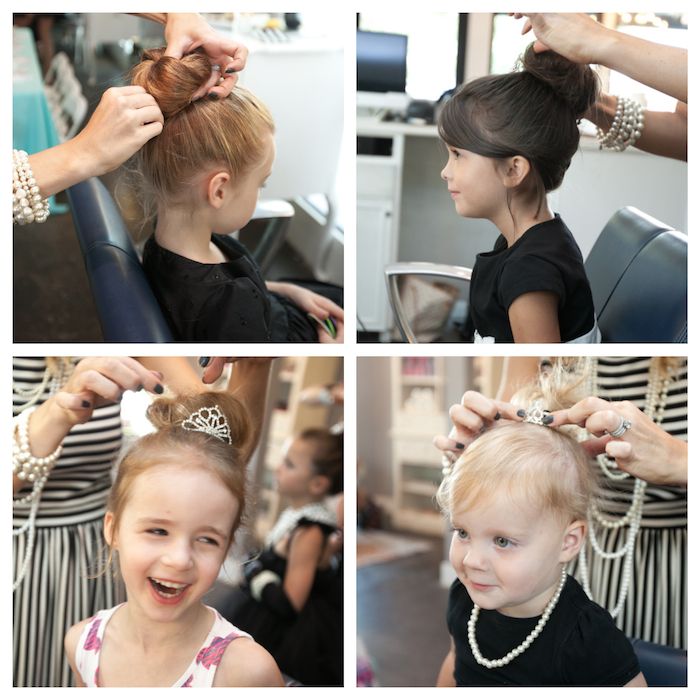 Start with a high ponytail and tease the "tail" to add texture.  Loosely wrap it into a bun (or wrap around the bun maker) and secure with bobby pins.  Once the hair was up we finished it off with a tiny tiara and they were ready for the party!
We rented a children's folding table with kid sized white chairs.  Jen set each place setting with a saucer and a set of gloves for each girl.  The birthday girl of course had long black gloves!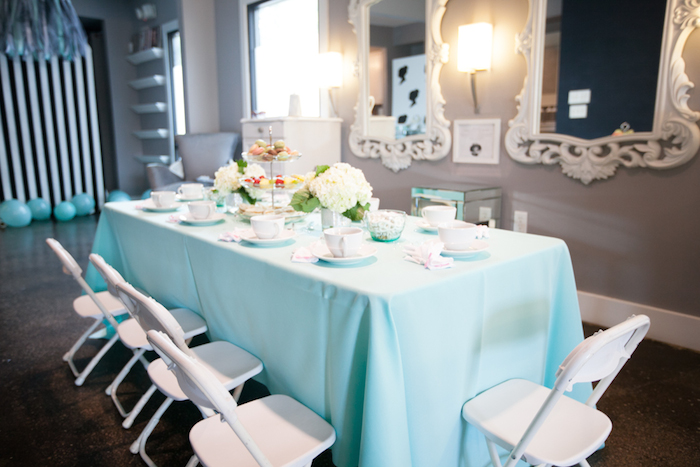 The perfect Tiffany blue table cloth was a must and hydrangeas made the flower arranging a cinch!  Black and white stripped paper wrapped around the water bottles helped tie in the color scheme and made it feel extra special.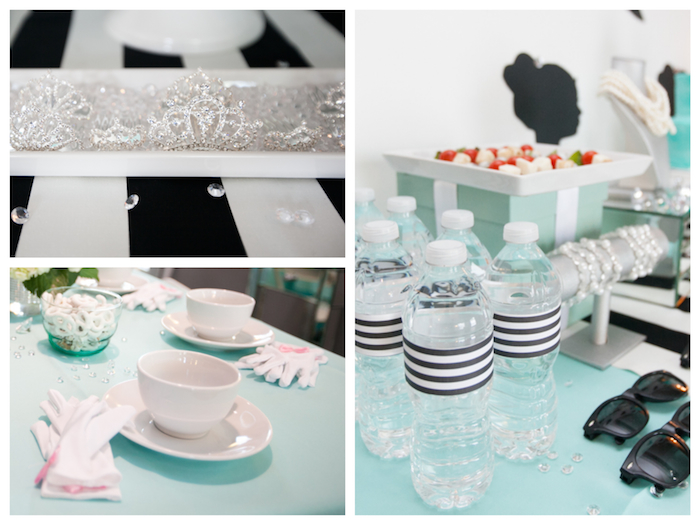 Jen built a photo booth frame out of PVC pipe and draped black and white fabric for the backdrop.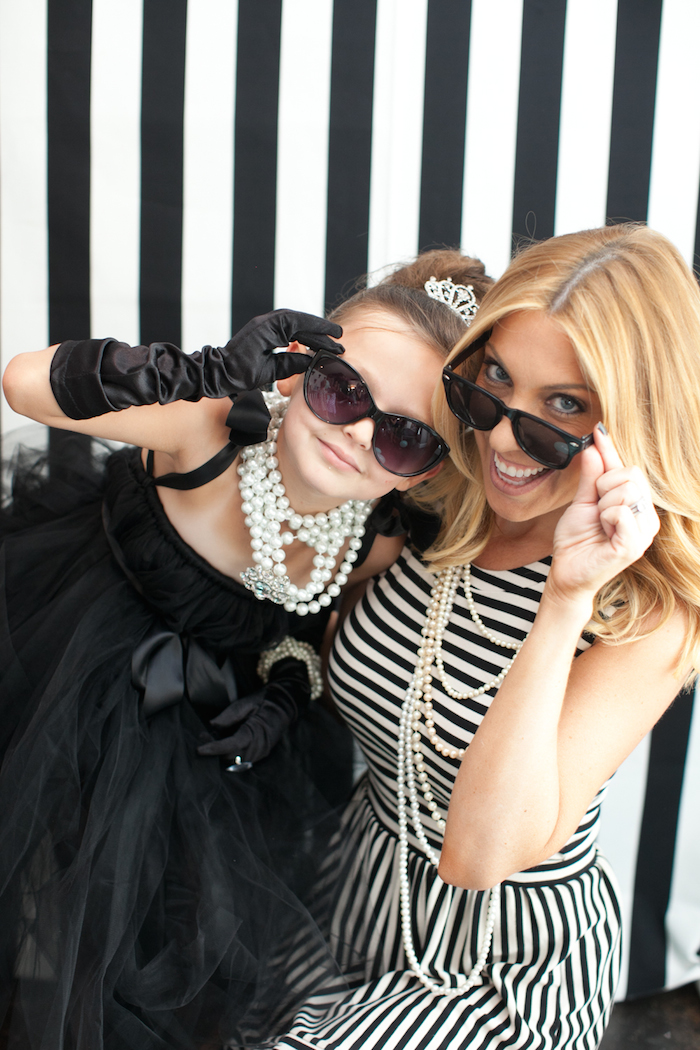 Of course I couldn't resist jumping in with Miss Carson!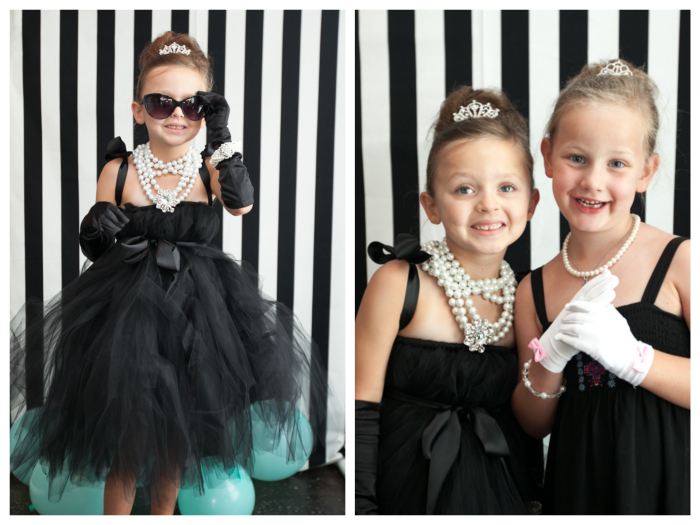 Simple turquoise balloons gave it a pop of color on the floor and mom (aka design guru) jumped in to steal a kiss from her birthday girl!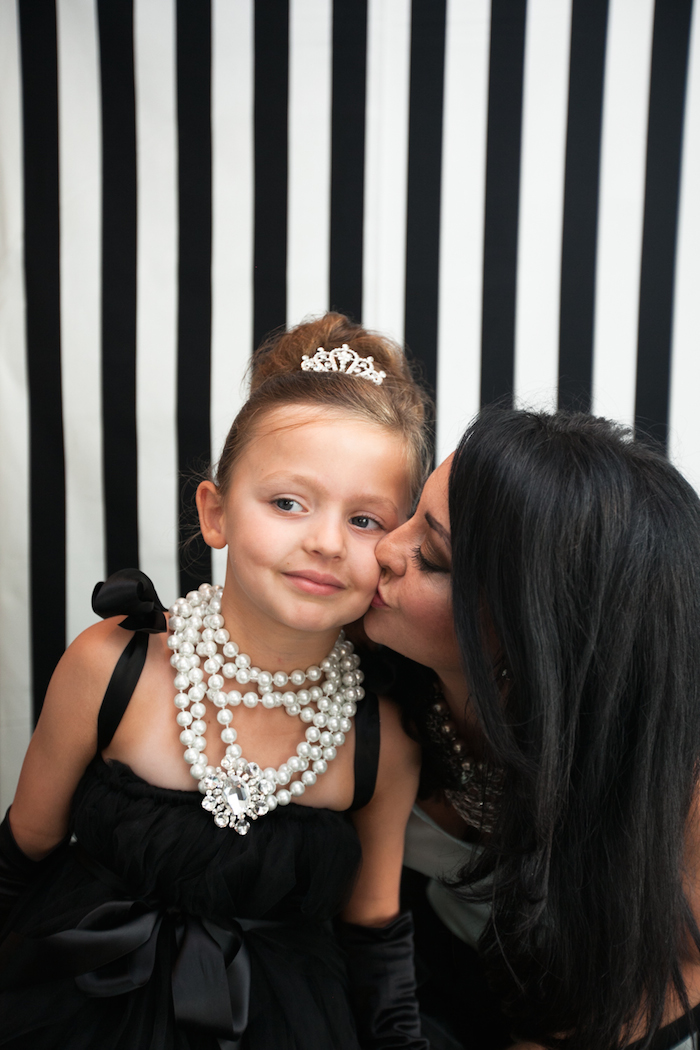 Because we were at the salon we wanted to hide the shampoo bowls so Jen built a backdrop with silhouette cut outs adorned with a jewel.  This table from Ikea is the perfect size to slide over the shampoo chairs and you can adjust the height as needed.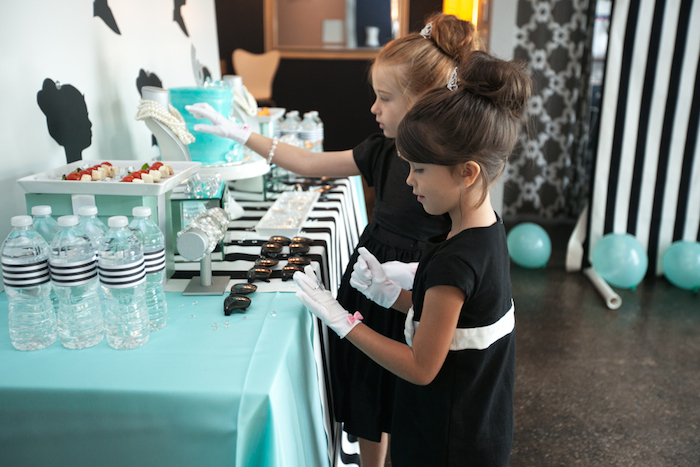 In addition to their top knot and tiara, these little party goers got to "shop" for their jewelry and sunglasses (all found at Target in the $1 section) to accessorize their little black dresses.  Tiny white gloves at each place setting finished the whole look!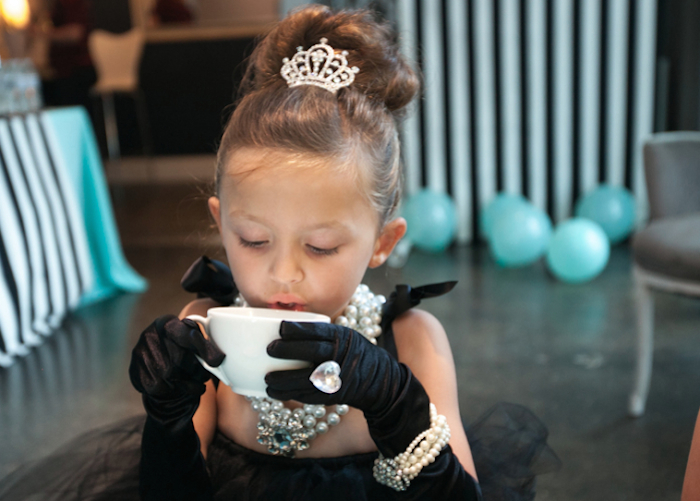 In addition to macaroons, fruit kabobs, and salad on a stick they kept it prim and proper with peanut butter and jelly cut into high heels.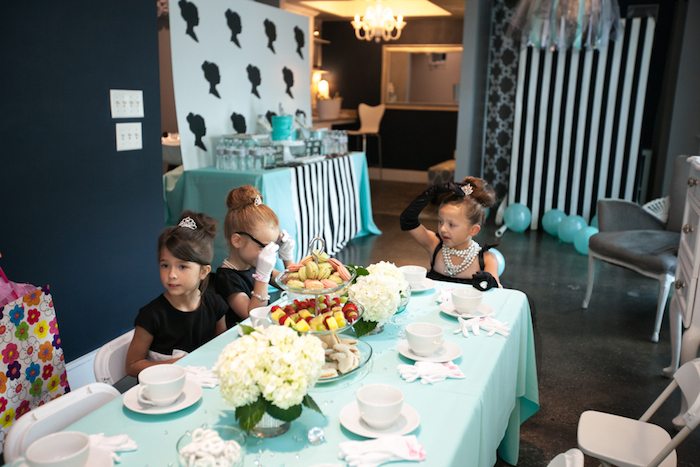 Water was served out of a tea kettle and everyone was blown away by this gorgeous cake created by Callie Speer of Cakemix Austin.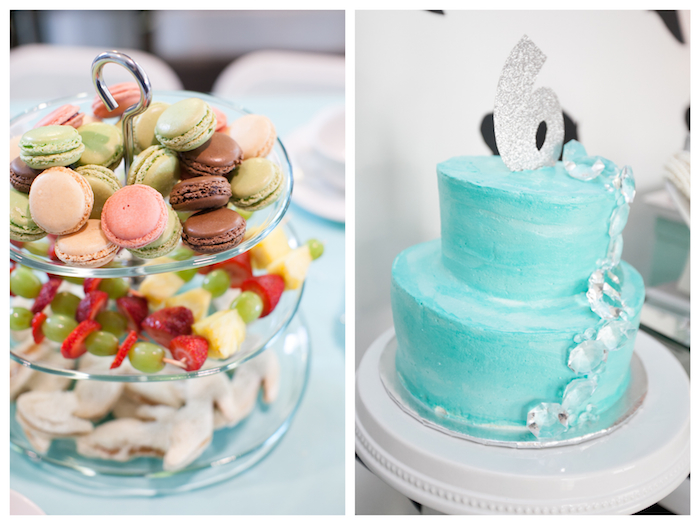 We placed fun Audrey Hepburn beauty quotes around the salon.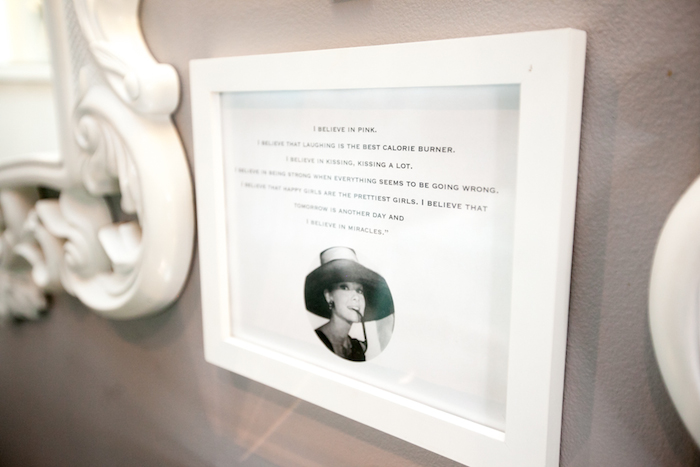 The party was a blast and would be so easy to recreate in your home for the little ladies in your life.  If you want to connect with Jen about designing your favorite space you can find her here and if you are needing some major design inspiration make sure you are following her on Pinterest.
SHOP THE POST