The Beautycounter momentum is on fire right now!  With press over our amazing products, new advocacy efforts in full swing, and celebrity endorsements like this one with Amy Shummer and now my personal business guru Jenna Kutcher has hopped on board.  I am getting A LOT of questions about the business side of Beautycounter.
There is a reason that Beautycounter was the #1 most googled beauty brand of 2018.  People are VERY curious.
I have always been an open book about all of my endeavors and my dream for you all is for you to find something you can feel passionate about and go all in.  Recently I shared some of my findings over the past 8years as a salon business owner and so I thought I would share a glimpse at my other business!
Whether you have been itching for a change, wanna make a little side cash or are new to this whole clean beauty movement and want to dig in deeper – I hope this helps answer your questions and gives you a glimpse at how I work my business with Beautycounter.  
Before I jump in…you can always email me directly at hello@marthalynnkale.com if you have more questions and you can of course JOIN NOW if you are already ready to join my team!
Okay lets hop right in…
IS BEAUTYCOUNTER A PYRAMID SCHEME?
Well let's kick this off with the elephant in the room.  We are absolutely NOT a pyramid scheme.  Pyramid schemes are actually illegal and to be one would mean someone is buying into a company and then getting other people to buy into a company and there are no products being sold.  You can visit the FTC website for more info on pyramid schemes and why they are illegal here.
DO I HAVE TO BE GOOD AT SALES?
Nope.  We are an education FIRST company offering solutions through high performing products.  What does that mean?  It means the beauty industry is grossly unregulated and the average consumer has no idea.  Most of what I do is share things like…
Did you know that the European Union has banned 1400 ingredients that are harmful or unsafe and the US has only banned or partially banned 30?

Did you know that 40 years ago 1 in 20 people got cancer and now it's 1 in 2 men and 1 in 3 women?

Me either and did you know that 90% of those people have NO genetic predisposition to cancer at all?  Something is definitely up and it's related to what we eat, the air we breathe, the water we drink AND what we are slathering on our bodies.
I have this conversation over and over again and people have no idea!  We can't offer the problems of the world without some solutions so lucky us Beautycounter has high performing products that stand up against any beauty product you would find at Nordstrom or Sephora (if not better) AND they are self regulating and leaving out 1500 ingredients that we will NEVER put in our products.  (check out our Never List here) 
ARE THERE MONTHLY FEES AND MINIMUMS?
Nope.  Our requirements are over a six month period that realistically will be met by just replenishing your own products and if you sell to close family and friends.  No monthly requirements.  No monthly fees for the website.  Yes, other companies have this and I wouldn't want any part of that either.  It's confusing to keep up with and people get frustrated (rightfully so) and quit.  There is a $50 Business-Builder renewal fee that is auto-billed annually on every Consultant's anniversary date. This fee pays for back-office support tools including but not limited to the Consultant's Personal Website, business reports, tracking tools, and more.  If you don't hit your six month minimum you just downgrade to our perks program and enjoy all those rewards as a customer since that's really what you are anyway!  Make sense?
WHY IS BEAUTYCOUNTER CHOOSING THIS MODEL?
This is a business powered by PEOPLE and it's a story best told friend to friend.  Could we have put our products on the shelves at Neimans?  For sure.  But it would look just like every other product "claiming to be clean" and it might get lost in the shuffle.  Gregg Renfrew our founder decided to create a NEW business model that meets consumers exactly where they are and you can shop Beautycounter in a multitude of ways!  This is why we were named one of the most innovative companies by Fast Company.
Shop through e-commerce at Beautycounter.com directly (no consultant required)

Shop with a consultant (like me or maybe YOU!)

Shop through our strategic partnerships (we have partnered with Target, J Crew, Goop and more)

Shop one of our pop ups or one of our brick and mortar locations in NYC and Denver
Oh and did you know that if you shop one of our pop ups or brick and mortar stores you can not only walk out with your products but you can give the name of a consultant you shop with at check out and they make a FULL COMMISSION.  Think you can do that at Nordstrom?  I wish.
HOW DO YOU GET PAID?  AND HOW MUCH DO YOU MAKE?
We make a commission (25%) on all products sold no matter how much you sell.  If you sell $100 worth of Beautycounter to your Aunt Linda they will pay you $25 around the 9th of the following month.  This is exactly the same as how I make money at the salon and through selling through links on my blog except the commission is WAY higher.  You also have the opportunity to make an additional 10% (so 35% total) if you hit a sales goal.  I am always shooting to hit that so I don't leave any money on the table plus I love a challenge! 
We are also paid on mentoring/coaching our team.  Like any sales force there is usually a sales manager that cheers the team on and is compensated on their performance.  You don't HAVE to grow a team but if you do and if you help them succeed you are paid a commission on that as well.  Happy to elaborate here but you should know that there is no cap on the income potential if you want to build a business.  You can read our full INCOME DISCLOSURE STATEMENT HERE.  I am a Senior Director and I can attest to the accuracy of the levels.  I can also tell you that when I joined I set a goal that if I could make $500/month it would be worth my time.  I did about 3x that my first year on average and now Beautycounter pays our mortgage and has allowed me to step away from doing hair.  This is because I believed in the products and the mission and I talk about it A LOT and saw the opportunity.  There are also tons of hobbyist that enjoy the discount and sell to friends and family and make a little cash.  It's YOUR foot on the gas pedal and you can come in and out of this business as it works with your family and your goals.
If you treat it like a hobby it pays like one and if you treat it like a job it pays like one.  It's 100% your call – every voice is welcome and needed!
WHAT DOES IT COST TO JOIN?  
The short answer is $98.  This gets you some swag, two of our hero products and your personal website to share with friends and family.  That being said it's VERY hard to grow a business without products.  Imagine a boutique without clothes or a restaurant without food?  It would fail.  So in my opinion and based on history with my team members over the past few years – you need some products!  The fastest way to build your Beautycounter business is to use the products yourself – a lot of them – because they are freaking good and you will not be able to help but tell your friends how much you love them!  Beautycounter has created some starter kits that get you around a 40% discount but you can only take advantage at enrollment.  Otherwise you are buying all these products (and yes you WILL want them) at your 25% consultant discount.
Read my lips – buy a kit.  I will help you make a plan to make your money back but the products are instrumental in doing that!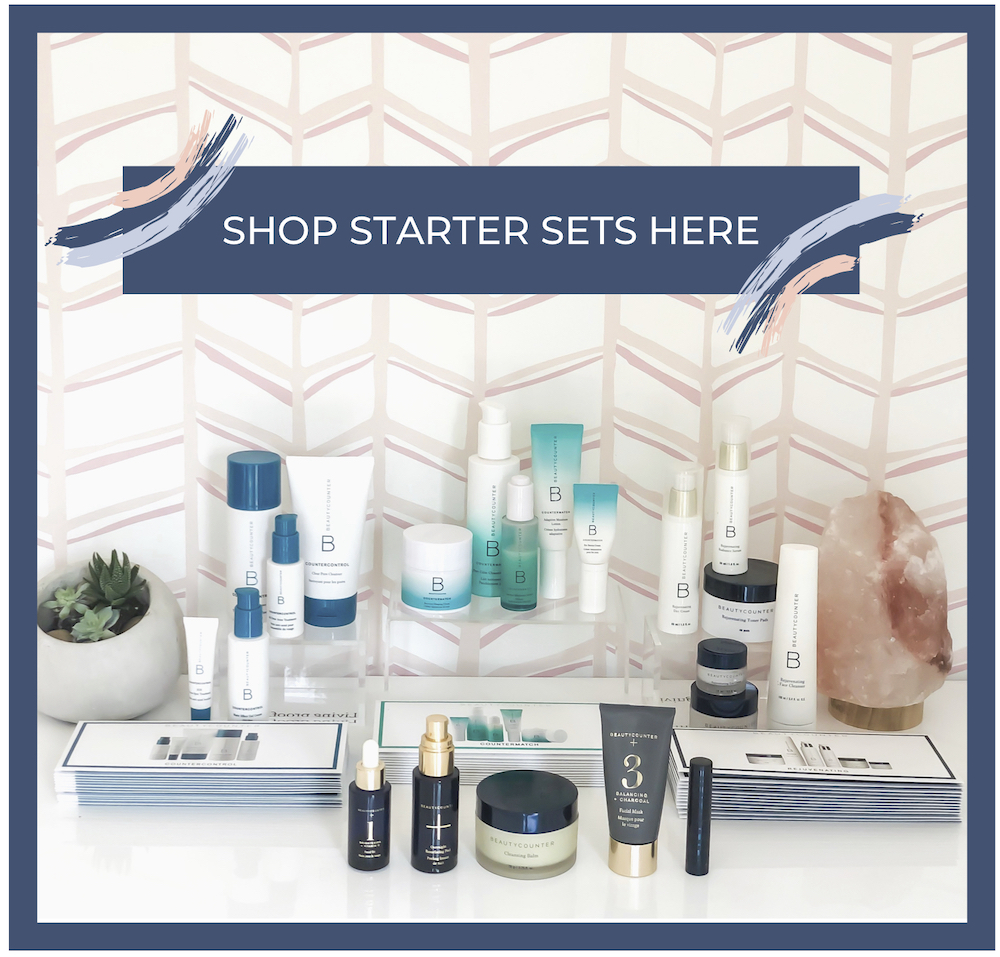 WHAT DO I DO WITH ALL THESE PRODUCTS?  
Use them for yourself and put them to work!  These are not just to sit on some shelf and gather dust.  You will use them for yourself and your family and then you can use them to lend to friends so they can experience our brand in it's full size glory (this is how I built my business btw).  Additionally, you can use them at pop ups at friends homes or at local businesses, use them to take photos and share on social media and of course pop those samples in the mail to out-of-towners! 
Your products are your employees so get them out of the house and working for you!
WHAT DO I TELL MY HUSBAND?  HE ISN'T REALLY INTO ME DOING SOMETHING LIKE THIS?
Y'all this one comes up a lot and it breaks my heart.  I would have them email me at hello@marthalynnkale.com and put "Let me talk to Trevor" in the subject and he will gladly share how Beautycounter has changed our lives, given me true purpose and freedom and of course added to our bank account.  I get it.  When I joined he was like "really Mar?…we are adding another thing" but just like with everything he supported me and now he's all in!
HOW MUCH TIME DO YOU SPEND ON BEAUTYCOUNTER?
It depends.  In the beginning I worked this business from behind the chair talking to clients, at coffee shops and lunches I was already going to and from my couch while Netflixing.  Now I have carved out more freedom from the salon so I have a little more time to dedicate to growing my business and coaching my team!  You can do this however you want and can absolutely start with just a few hours a week and have great success.  As with anything, once you see it working you may want to work more but again, it's up to YOU!
DO I HAVE TO POST ON SOCIAL MEDIA ALL THE TIME?
No way!  You get to work your business the way you want.  Spreading the word about safer products is privilege and this is not a one size fits all formula.  If you are more comfortable one-on-one and in smaller groups that's amazing or if you have a larger platform you want to utilize that works too.  I will encourage you to dabble in a little bit of everything in the beginning just to build a little momentum and to try new things.  Personally, I do great one-on-one and of course I love my social media followers and love to engage with them there primarily through stories.  But that's just me and there are all kinds of consultants! 
I DON'T WANT TO BE ONE OF "THOSE PEOPLE"…HOW DO I SPREAD THE WORD AUTHENTICALLY?
If you don't want to be one of those people…don't.  I think just being transparent and honest with your network is best!  Try to avoid "copy and paste" and just take people along with you on this journey.  Most people that join are pretty new to all of this "clean living" and it can feel like you are drinking water from a fire hose in the beginning.  Just start sharing why you joined and what you love about the products.  It's that simple and people will appreciate that.  I have been doing this business for a few years now and there are people just now placing their first order and others that join my team with huge kits before ever having tried a product!  You never know where people are so just educate and share and show enthusiasm and it will be contagious.
I'M SO BUSY…HOW DO I FIND THE TIME?
I hear ya.  This was me.  I find the busiest people make the best consultants because they are very used to juggling it all!  I don't have the luxury to sit down and work on my Beautycounter business for hours at a time.  I have truly built this business using technology with my team and working it in the nooks and crannies of the day.  I listen to trainings on my commute or while I exercise, I share the mission with friends when I'm on the go, I incorporate it at the salon – I try to always be open for business for anyone that wants to switch to safer so that helps!  You will find the time for things that are important…I promise!
WHAT HAPPENS ONCE I JOIN?
You have your website immediately so you can start sharing that with friends and family right away!  You will have access to our back office and can start poking around setting up your direct deposit and doing some of the admin stuff.  We will connect you with our larger group.  It takes 5-7 days for your products to arrive so I recommend setting up an "unboxing" with your closest BFF's to get their feedback on the products!  This is SO fun to see people loving the line.  You'll start getting training videos and will want to connect with your mentor so you don't miss out on any of the cash and products you have access to the first 90 days!  Again, your foot is on the gas but it's our goal to get you ramped up, make that investment back quick and get you up and running! 
WHAT ELSE?
This is a working document and I will continue adding questions as they come in so this can be a resource.  There is no catch.  People are not going to start caring less about the ingredients they are putting on their body.  The opportunity is there for anyone that wants it.  It's so amazing sharing safer high performing products with those I love and getting paid well to do it!  I'd love to have you join me!
What are you waiting for?  Click here and let's get you signed up!  
ADDITIONAL RESOURCES
CHECK OUT OUR 2018 RECAP (90 seconds)
CHECK OUT OUR VIDEO ON THE OPPORTUNITY (3 mins)